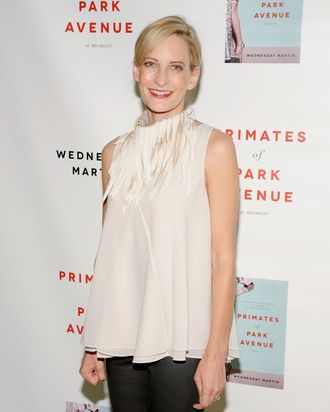 Wednesday Martin.
Photo: Matthew Eisman/Getty Images
The Upper East Side will soon be getting even more screen time: MGM has bought the movie rights to Primates of Park Avenue, Wednesday Martin's account of life among the Birkin-wielding moms of the Upper East Side. And this weekend, at a party in the Hamptons to celebrate the book, Martin talked to the Cut about bringing her story to the big screen.
First order of business: Whom to cast?
"It's a trick question," Martin said, laughing. But the person playing her stand-in needs to be "a dorky outsider," she told us. "That person will have to be comfortable with that role."
Also, she's looking forward to re-creating the kinky weirdness of Physique 57 for a wider audience.
The book is now a No. 1 New York Times best seller, thanks in no small part to Martin's description of a "wife bonus": a year-end payout contingent upon a wife's domestic performance. It's a detail that's proved controversial, but Martin said she was glad to have people talking about the economics of the Glam SAHM (glamorous stay-at-home-mom) way of life:
I love how it's started a conversation about economic dependency in marriage and the many ways women who have decided not to work and to raise their children, how they negotiate being the non-working partner, how they work it out financially with their spouse or partner. I think it's great that women and men are talking about it. I feel lucky to hear the conversation ... These are hot-button topics: motherhood, wealth, economic dependency.
Though there's no word yet on when the movie comes out, Martin is already working with MGM — based safely from her new home on the Upper West Side.