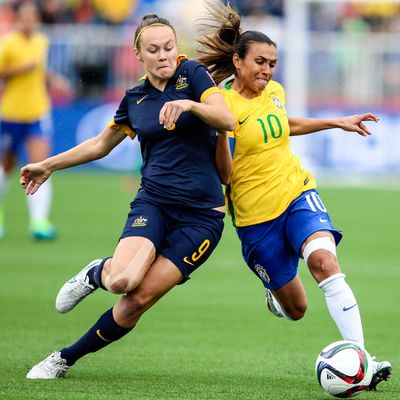 Caitlin Foord of Australia and Marta of Brazil.
Photo: Brazil Photo Press/CON/Getty Images
According to a study released earlier this month, women's sports account for only 3 percent of all televised sports coverage in the U.S. Yet, internationally, disregard of female athletes runs far deeper than the dearth of media attention. Yesterday, on ESPN, former captain of the U.S. women's soccer team Julie Foudy voiced her frustration at the lack of support for women's soccer across the globe.
In response to Brazil's recent elimination from the World Cup, Foudy said she's not surprised at the team's early exit, given the country's "legendary lack of support for the women's team." This is a country where it was illegal for women to play soccer until 1979 — and, where, much more recently, the head coordinator for women's soccer suggested that the lack of interest in the women's game was due to ugly players. Brazil's disinterest in women's soccer is especially discouraging since, as Foudy argues, the country is "the Mecca of football all over the world — but for men's soccer, not for women."
"The reason I'm frustrated is because this is a conversation about the global women's game we've been having for over 20 years, and the pace of change is just too slow," Foudy continued. "If you build a base, and you open doors for girls to play, you're going to create successful teams — and successful teams create attention, and with that comes marketing and sponsorship."
"Let women play. Give them a chance," Foudy implored. Watch her full case for expanding investment and resources for women's soccer here.