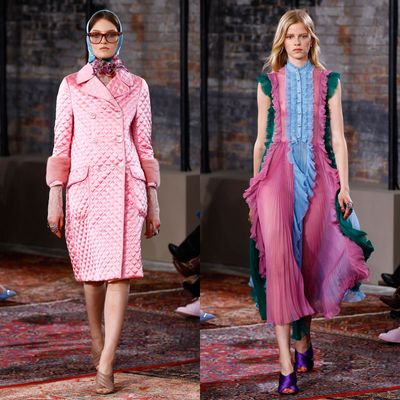 It's no secret to anyone with an internet connection that resort shows have become a big thing — an opportunity to show small collections to small crowds, sometimes in showrooms with designer-led narration, and sometimes in increasingly exotic locations — this season there was Vuitton in Palm Springs, Dior in the South of France.
Gucci has a new designer, Alessandro Michele, whose first show was in February not long after the announcement that he'd replace Frida Giannini, who'd been there for eight years. Today, Michele had another big debut: a phenomenal resort collection, which he showed in a West Chelsea garage space (open doors, models walking across the street), and it felt like an announcement. Gucci is now romantic and eccentric and poetic and also: lots of people are going to want these things. You can almost count the minutes till the street-style people descend upon the showroom, and then, of course, the hours till the civilians feel its influence, knocked off and watered down.
Michele himself looks like a big hippie: all hair and beard and Italian philosophers quoted in the show notes. That alone is a big departure for a house whose modern history begins with Tom Ford, Madonna, and G-shaped pubic hair. (Giannini was quieter, but still very Euro-sleek.) But pre–Tom Ford Gucci has a great heritage: the horse-bit loafers and red-and-green logos that call up the retro-Italian glamour of caramel-colored skin, hair, and bags of a people who play outdoor tennis in November, smoke, drive convertibles, and can wear turbans on their heads without looking like maniacs. And this is what that collection felt like: the fantasy of what you'd find in some nonexistent Florentine vintage store, except nothing smells and everything fits and the fabrics are perfect. It's all very, "What, this? I found it in the attic of my triple-great aunt, la contessa." Because of course la contessa had a lace tennis dress with red and green cuffs, and rainbow chiffon dresses, and a double-breasted snake-skin trench, and a knife-pleated lamé skirt and a pink quilted cout. Of course. Si. Certo.