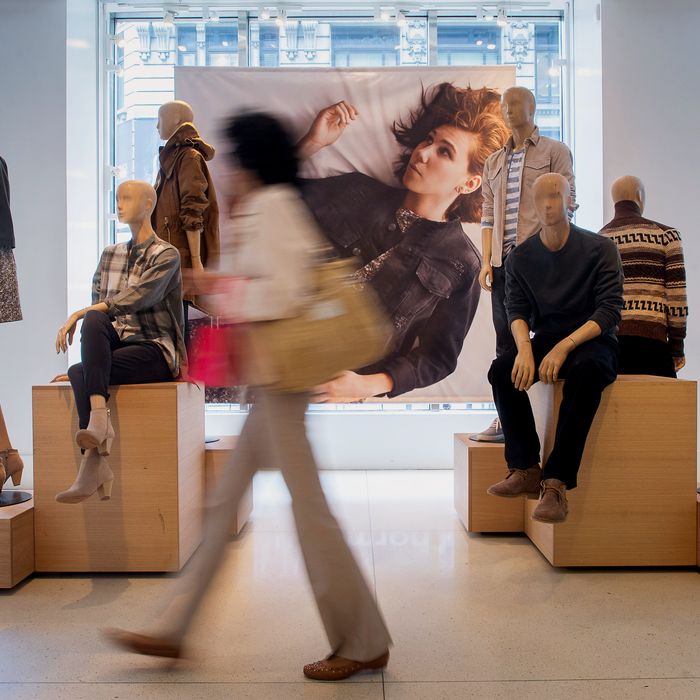 Photo: Craig Warga/Bloomberg/Getty Images
When Gap announced yesterday that it would close a quarter of its North American stores, as well as some European branches, it was just the latest round of bad news for the fashion industry. Last week, J.Crew responded to sagging sales by subbing in Somsack Sikhounmuong — the designer of its other, lower-priced brand, Madewell — for women's design head Tom Mora. And over the past year, chains like Piperlime, C. Wonder, and Kate Spade Saturday bit the dust; independent labels, notably Band of Outsiders, Reed Krakoff, and Honor shuttered; and mall standbys such as Abercrombie and Fitch and American Eagle Outfitters struggled. All of these brands' problems are varied, of course, but their failure does have one common denominator, and that's the extremely polarized state of the fashion industry now.
Amid all the carnage, it's useful to ask the question: Who is actually doing well? Lower-priced brands, for one. While Gap continues to struggle, the jewel in its Gap Inc. crown is currently Old Navy, which has brought in more revenue than siblings Banana Republic and Gap put together. Madewell has vastly outperformed its big-sister brand. And off-price companies like T.J.Maxx and Marshalls, and even Walmart, are prospering. (In fact, some branches of regular-priced stores, like Express and Macy's, are converting to the outlet format.) 

The other bright spot? The very high-end. Brands that cater to the one percent — or even the .01 percent — continue to thrive, fed by the wealth of the growing super-rich class. Bespoke watches, a new ultraluxury wing of Harrods, and $10,000 wearable devices are doing just fine, thank you very much. (It's not just fashion that is experiencing this divide between the Davos set and the dollar-store crowd: Annie Lowrey recently wrote about a similar phenomenon with gyms. The $6,000-per-year membership sector and the cheapie $120-per-year-gyms are both doing fine — it's their middle-ground competitors who are losing out.)
The brands that are struggling all fall into the middle ground of their respective markets — on the other side of Old Navy, Gap faces Theory for basics, while Band of Outsiders is caught between J.Crew and Burberry. The problem for these mid-tier companies is that even shoppers who might be able to afford slightly pricier fare have been shopping downmarket. Shoppers who claim that J.Crew's sweaters are getting more expensive while also dipping in quality — check out the hashtag #revivejcrew — are likely to just buy the cheaper version from Madewell or Old Navy. And since these mid-priced stores are quick to put inventory on sale, they've trained the customer to wait for the item to go on clearance, by which time they may have already found what they want at a fast-fashion brand or an outlet.
The attempt to return Gap to its '90s heyday is a multi-decade story by now, and the market is unlikely to get easier for any of these companies. Rebekka Bay (formerly of COS) is just the latest design whiz to fail at Gap, and while Madewell has been successful under Sikhounmuong, that doesn't mean he'll be a magic bullet for J.Crew. To address customers' issues, stores like these will have to emphasize items like the Cece ballet flat that was such a hit at J.Crew — until it went from a Made in Italy original to a redesigned, manufactured-Stateside version, much to consumers' distress. Women hoarded the Cece, buying it in multiples, and it could have stayed a sellout item for decades. Smaller-scale labels like Everlane and Warby Parker have been successful with creating the affordable ultimate T-shirt, or the timeless pair of sunglasses, items people want to invest in. The mid-tier brands won't be able to compete with the trend-driven fast-fashion market, but by refocusing on quality and fit, they may be able to work their way back into people's wardrobes — especially when the ultracheap sweater that seemed like such a deal falls apart in the wash.