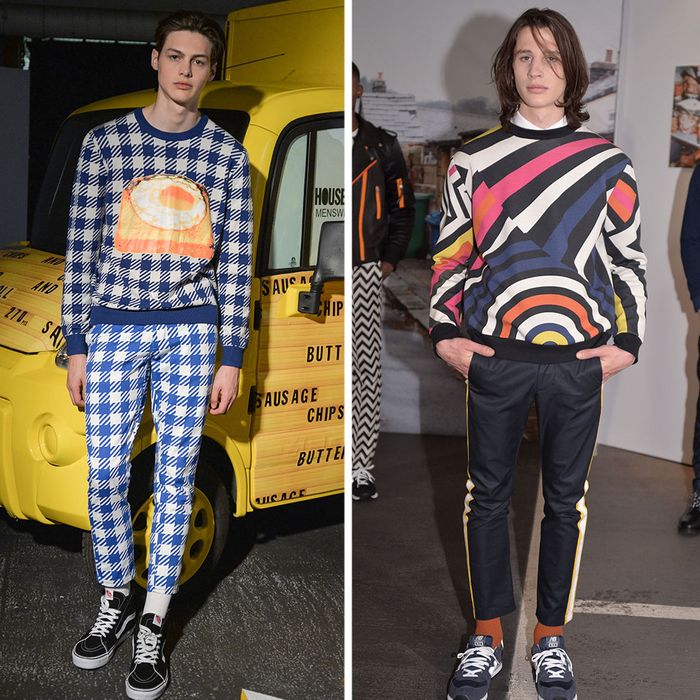 For the last nine years, Henry Holland has become known for making the kitschy, colorful clothes worn by his "It"-girl gaggle of friends, including Alexa Chung, Daisy Lowe, and Pixie Geldof. But this weekend at London Collections: Men's, he branched out, with a new menswear line created with the help of the British photographer Martin Parr.
In some sense, they make for odd bedfellows: The 63-year-old Parr, for one, is defiantly anti-fashion. When I interviewed him for the Cut last year, he wore a Paul Smith sweater that he informed me was "in the sale. I would never pay full price! That jumper is the only thing I've ever bought consciously that I knew the label of — as opposed to walking into a shop because it's next to the bank."
In other ways, though, Parr and Holland are a perfect match: Both share a fascination with small-town British life. For this collection, Parr's archive of imagery inspired Holland at the design stage — and later, the two of them collaborated on capturing the clothes on camera for a launch exhibition, which took place at London's Selfridges yesterday. The themes fit them both: A model is photographed at a soccer club, and in a dreary café serving "meat and potato pie." The images, and the accompanying short film, include a host of small-town British characters, from line dancers to hairdressers to firefighters. Parr is seen on camera, wrapped up in an off-brand anorak and scarf.
The collection itself is right on theme, inspired by working-class English fashion and appearing to borrow ideas from the mods, the Northern Soul scene, and the world of the football hooligan. Denim jackets and sweaters are streaked with neon, and button-down shirts come in loud plaid. Soccer shirts are emblazoned with the words "lads," "lover," and "legend," while a T-shirt says "Your banter is bullshit."
Holland first found fame in 2006 with a series of slogans like "I'll show you who's boss Kate Moss" and "Flick yer bean for Agyness Deyn." With this latest batch of catchphrases, along with the references to northern life and the bright palette, his first menswear collection couldn't feel more like his comfort zone.