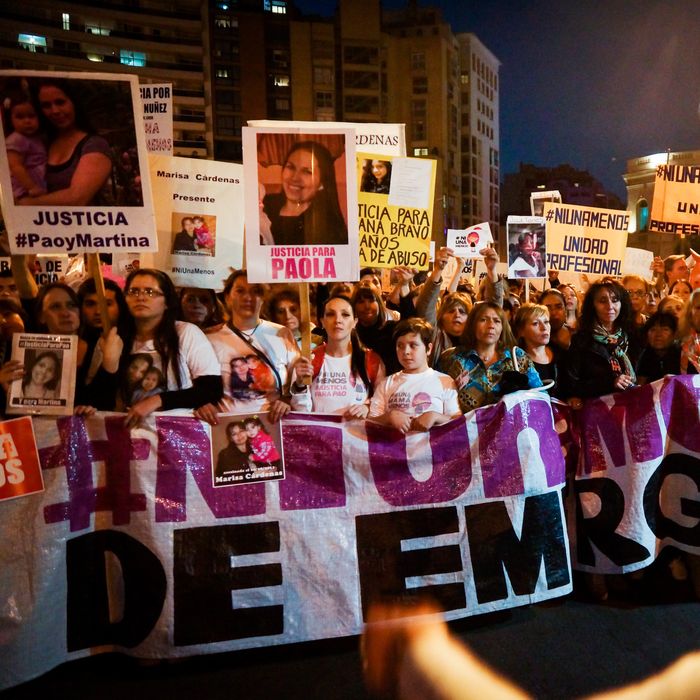 Photo: Andres A Ruffo/This image is subject to copyright.
As a radio reporter in Buenos Aires, Marcela Ojeda spends most days interviewing families of women killed by husbands, exes, boyfriends, or spurned lovers. "I rush to interview the families of victims before the other journalists get there," she told the New York Times. "And every day I have to report yet another woman or young girl victim of femicide." On May 11, when news of another murdered woman landed on her desk, Ojeda "flipped" and posted a tweet in "a fit of rage."
"They're killing us," her tweeted call to arms read. With some other female journalists who cover femicides, Ojeda decided to organize a march for June 3. What they expected would be a small demonstration of solidarity in a country with a deeply ingrained culture of machismo ended up galvanizing thousands of women across various demographics. In addition to the 200,000 women who marched to the Capitol building in Buenos Aires, protests popped up in cities and towns across the country.
The #NiUnaMenos — "Not One Less" — hashtag has gone viral, and the widespread march participation speaks to long-simmering feelings of anger, frustration, and fear among Argentine women. Approximately every 36 hours, an Argentine woman is killed by an ex or a current partner. The statistic is shocking, but many suggest that the number is conservative, and that the lack of governmental documentation points to widespread indifference to the safety of women.
"Femicide is the most extreme form of violence that crosses every social class, beliefs, or ideas," organizers said onstage outside of Argentina's Congress. "But femicide is also a political concept. It's the word that reveals the way in which a society sees something as natural when it isn't: sexist violence."
"It can be dangerous being a woman in Argentina," Fabiana Tuñez, executive director of Casa del Encuentro, a women's shelter, told the New York Times, pointing to the 1,800 cases of femicide they'd documented between 2008 and 2014. A number of recent — and particularly gruesome — cases contributed to the furor of those who marched, including the death of a 44-year-old schoolteacher whose husband slit her throat in front of her young students. María Eugenia Lanzetti had a restraining order against her husband and a panic button on her cell phone when she was murdered.
There is a sense among activists, academics, and the larger population that such violence is on the rise. The day after the protests, both the Supreme Court and the Human Rights Secretariat announced task forces to begin collecting data on violence against women.
Beloved cartoonist Maitena Burundarena read the group's list of demands outside of Congress, but she's also cautioned that governmental change won't bring an end to the problem. "The solution has to come from society, it won't come from the state," she told the New York Times. "Not all men are like that, we have to win over the good ones, no right-thinking man can tolerate violence against women. But someone has to start teaching the ones who don't understand it that women are not the property of men."