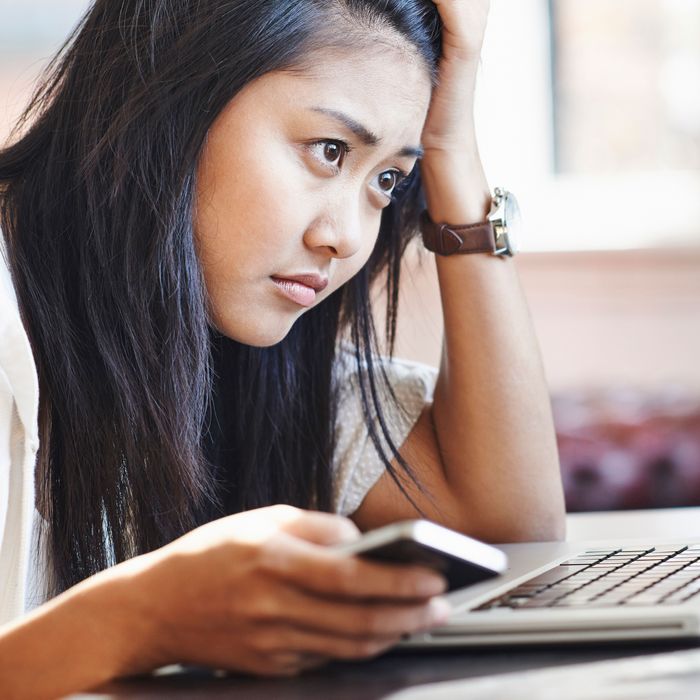 Carrie Goldberg has been helping victims of revenge porn wage legal battles against their exes since she founded her law firm in 2013, but until recently there was little recourse for those seeking to remove their intimate images from search results. But when a victim of nonconsensual pornography walked into her Brooklyn office on Monday to discuss her case, Goldberg says that for the first time she felt that she could actually say it was going to be okay — and mean it.
That's because on Friday Google published a blog post announcing an institutionalized effort to de-index revenge-porn images. In the coming weeks, the company said, it would introduce a form that victims of nonconsensual pornography could fill out that would notify Google to hide the images from search results. The photos won't be yanked from the web entirely — that's one power Google doesn't have — but they'll no longer show up when somebody Googles you, which could make the lives of thousands of revenge-porn victims a lot easier.
"For the first time since I started my practice I was able to tell these three victims that actually, everything would be okay," Goldberg, who also serves on the board of the nonprofit Cyber Civil Rights Initiative, said. "Because one of the biggest disasters and the most long-lasting problem that victims identify is the search-engine results."
Google is the fourth major tech company to reformulate its privacy policy over the last few months to accommodate the victims of revenge porn. It's taken years, but the tiny Cyber Civil Rights Initiative, a nonprofit crusading sisterhood started by revenge-porn victim Holly Jacobs in 2012, has managed to convince tech behemoths like Twitter, Facebook, and now Google to take the topic of revenge porn seriously.
Mary Anne Franks, a University of Miami law professor who serves as CCRI's legislative and policy director, began consulting with tech companies in 2013 to convince them to change their privacy policies to protect the rights of revenge-porn victims. With laws on the books banning revenge porn in 23 states and a federal statute looking more and more likely, Franks attempted to show tech companies that working now to ban nonconsensual pornography could save them from a lot of legal grief in the long run.
"I told them, 'I'm not asking you to change the policy, I'm asking you to be consistent,'" Franks said. "They all had privacy policies, so I asked, 'What do you do when someone tells you there's a website out there that has their password or credit card?' And they said, 'We delist those results.' So what I'm asking you to think about is why would you consider password information or credit-card information to be so sensitive that you would take those down, but you consider naked images not to be that private? This is just as important, if not more, and the risk of publishing this type of information without consent is much greater and the damage is much more severe."
Ironically, it was Reddit — an online community not exactly known for its gentle attitudes toward women — that became the first major mainstream internet property to specifically ban revenge porn in February of this year. By the end of March, Twitter and Facebook had followed suit. On June 2, Franks gave a talk at Google specifically addressing how the company could step up and help CCRI's fight to end revenge porn. Two weeks later, Google announced its intention to do just that.
In the last several years, attitudes toward the women — and it's overwhelmingly women — who have been victimized by revenge pornography have evolved significantly. CCRI hopes it can ride this attitude shift away from slut-shaming and into a new era where women don't have to live in fear of having their careers or relationships ruined by exes wielding their sexy selfies.
"There's just a new optimism in this fight," Goldberg said.