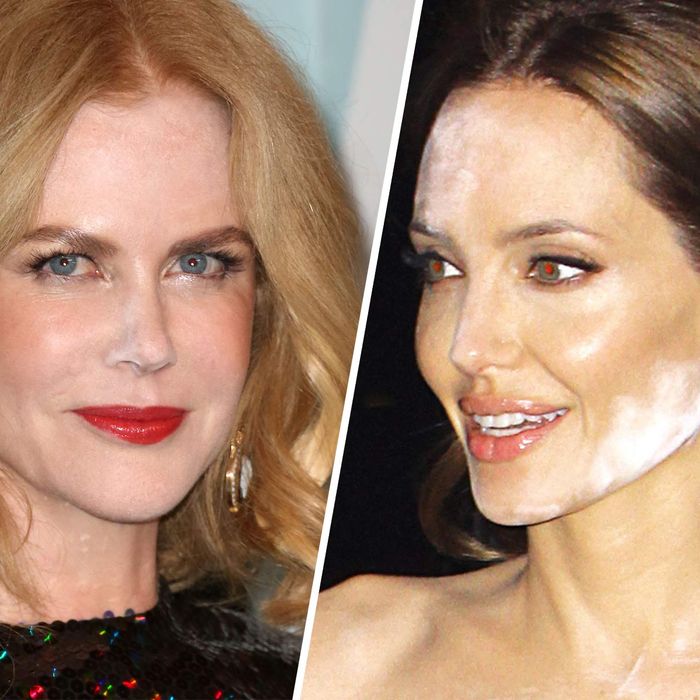 Photo: Frederick M. Brown/Getty Images
Earlier this week, Nicole Kidman gave a rousing, inspiring speech at the Women in Film event where she told the audience she used to be "afraid of [her] own power." But some beauty critics sniped that she should actually be afraid of her own powder. Unfortunately for Kidman, a splotchy, white cast was visible on her skin. This wasn't the first time this has happened to her, either — that was 2009 — and Angelina Jolie suffered a similar makeup mishap in 2014. It turns out that the beauty blunder isn't caused by simply not blending your face powder. After speaking to several makeup artists, the Cut learned there's actually at least four factors that contribute to accidental ghostface.
Beware of mineral makeup. According to makeup artist and creative director of StyleBookings.com, Vincent Longo, mineral makeup with too much titanium dioxide or zinc oxide, typical sunscreen ingredients, can create a whitish cast on the skin. Against high-flash photography, the sun-reflecting qualities of these items can reflect light. "It can be in blush or foundation," Longo explains. Try cream, rather than powder textures, for high-flash photography situations.
Buy a non-HD setting powder. Celebrity makeup artists Rose-Marie Swift, Daniel Martin, and Vincent Longo all agree that the most likely culprit in Kidman's case was an HD powder. HD powder, or what the industry sometimes calls "finishing powder," contains a high amount of silica. Swift explains that silica is coated with silicon for sliding on the skin, to create what Martin describes as a blurring effect for fine lines and skin imperfections. Longo adds, "When a flash goes off it creates a very high amount of shooting light" and the silicon-coated silica bounces in the light. In a recent video, YouTube makeup artist Wayne Goss demonstrated the effects of HD versus non-HD powder, showing that the half of his face coated with HD powder gave him barrister-wig face.
Apply your powder using a puff. We've all seen makeup artists apply powder using a brush. But Swift and Longo both recommend using a powder puff instead. "I teach everyone to apply powder with a buff," Swift says. "Powder deposits on top of skin and doesn't blend. When you use a brush and sweep it on the skin, it sits on top of hair, dry skin, and can scratch it." A puff allows you to press the powder into the skin and creates a set finish. "Run the puff with powder along the back of your hand to evenly disperse the powder. Apply the powder with small pats and avoid any streaking motions," Longo says.
Try the hand test. Most makeup artists counsel you to test out the effects of your makeup in natural light. But to make sure that your foundation or powder doesn't have a vampiric white cast, Longo suggests putting it on the back of your hand and holding it against the light, not into the light. "It will create a white, chalky cast on your hand," he explains.
So learn from Nicole Kidman. Don't date Tom Cruise and don't buy HD finishing powder. "Unless you're working on a film set, there's no need for it, really," Martin says. Click on the slideshow for five other non-HD powder alternatives.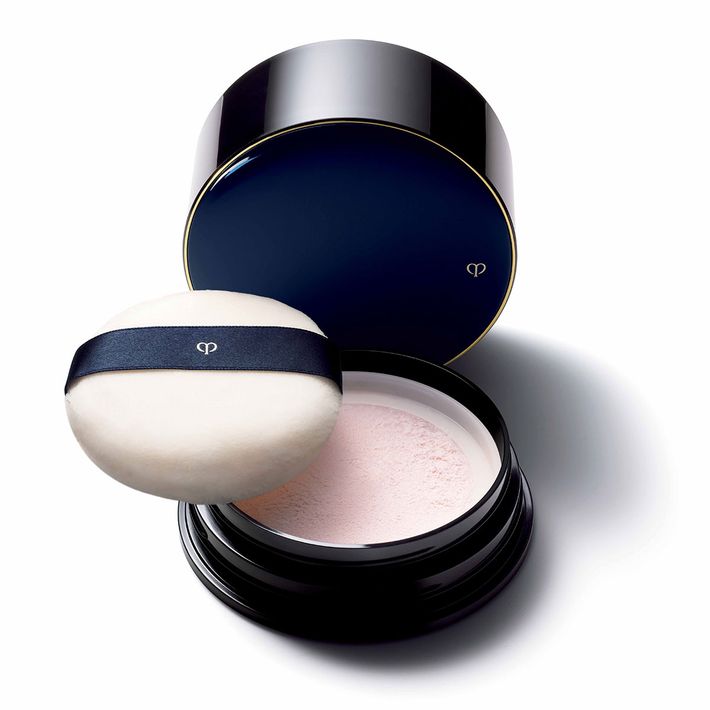 Clé de Peau Beauté Translucent Loose Powder
Gisele Bündchen and Miranda Kerr's makeup artist, Rose-Marie Swift, told me that the best silica comes from Japan, where it isn't coated with light-bouncing silicon. This loose powder is so light and finely milled that it feels like silk when first applied to the skin, and then nothing at all. It comes in a vintage-inspired case with a large powder puff, so you feel like a fancy lady when using it.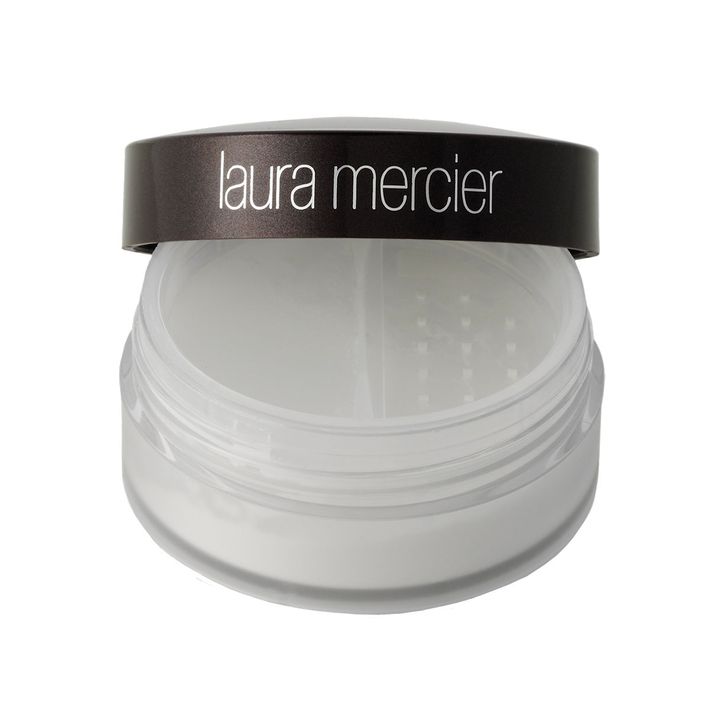 Laura Mercier Translucent Loose Setting Powder
This powder is a favorite of bridal makeup artists, who like how it doesn't settle into lines and doesn't cake over time. As the product name suggests, it goes on completely clear. This is a good everyday powder option as the product size is farily generous and a little bit can go a long way.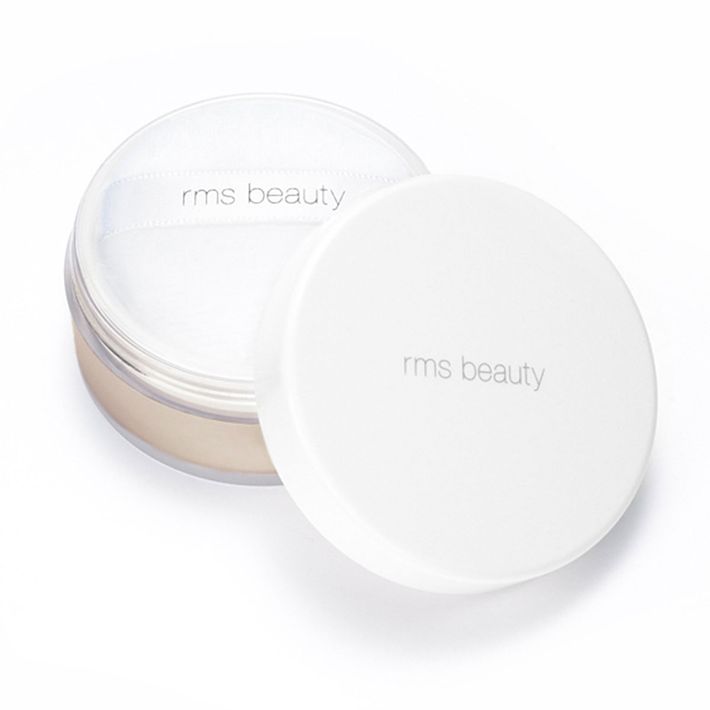 RMS Un-Powder
RMS Beauty's loose powder is not coated with silicon, and is made in Japan. To ensure that the powder completely blends in with your skin, it also comes in three skin-tinted shades. This powder feels so airy and non-drying on the skin that putting it on the skin feels like a gentle whoosh of air.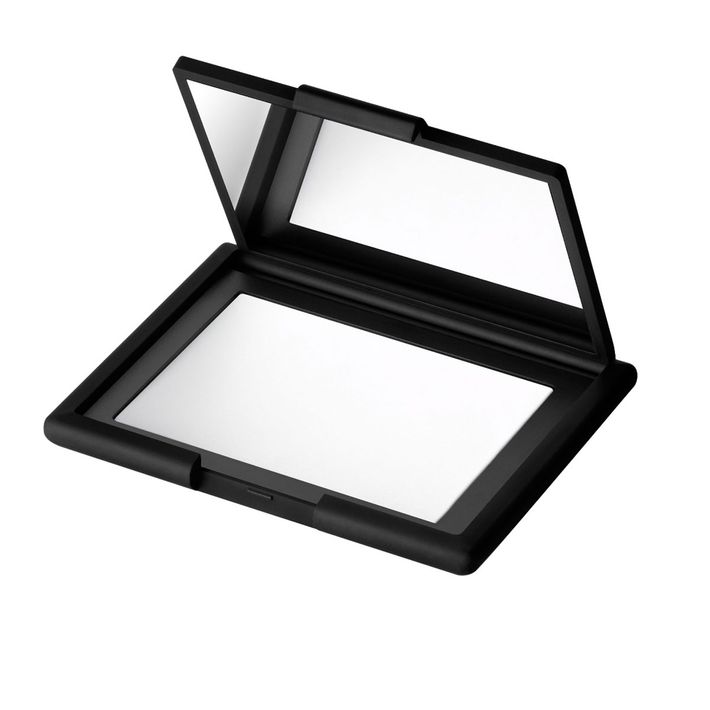 NARS Light-Reflecting Pressed Setting Powder
This powder is a particular favorite of makeup artist William Scott, whom the Cut frequently works with for shoots. Scott likes using this on shoots to eliminate shine and absorb oil, while still making the skin look alive. "It doesn't look like powder," he explains. Don't be afraid that the product has a "light-reflecting" aspect; this just means that it has a slightly dewy effect. "it's perfect if you like the dewy look but don't want to be afraid of the camera flash," he adds.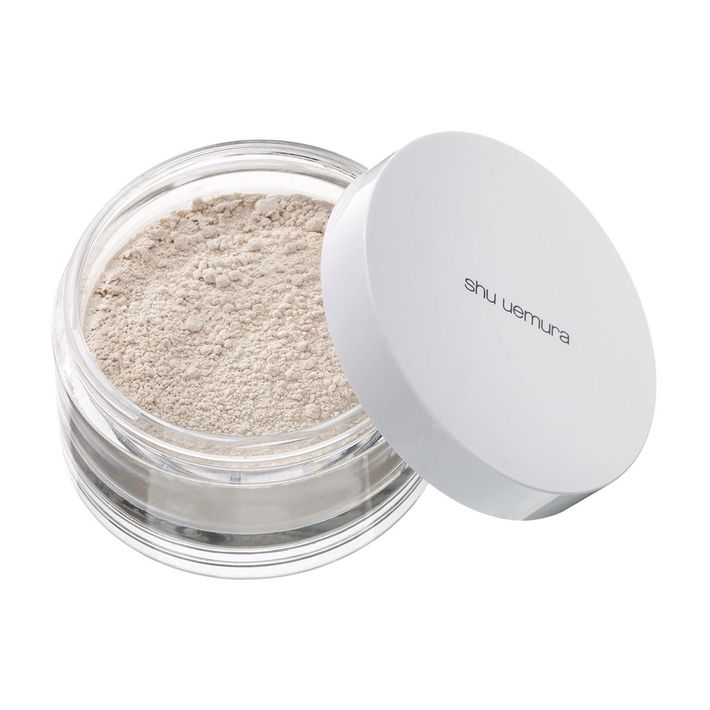 Shu Uemura Matte Face Powder
This is one of the powders that celebrity makeup artist Daniel Martin always has in his kit. He especially likes using this for more oily skin as it isn't as sheer as other powders, but still light and long-lasting.