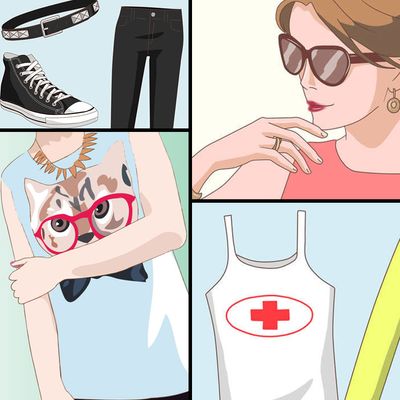 Courtesy of wikiHow.
Photo: Courtesy of Emily Spivack/WikiHow
Last year, Emily Spivack interviewed everyone from Marina Abramovic to Piper Kerman to David Carr about the memories they attached to specific articles of clothing, and published the results in a book called Worn Stories. Her latest project takes the same anthropological and archival approach to clothing, and came to fruition like most of her work: by way of falling down an internet rabbit hole. Spivack was intrigued by the number of how-tos on dressing goth — something she seems to have personal experience with — and ended up uncovering a trove of sartorial guides on the site wikiHow. They boiled down subcultures, identities, and strikingly specific pop-culture references to just a few steps, and Spivack found them fascinating, even uncanny. "In previous years it may have taken a lot of work to cultivate the essence of a subculture; it was about music and what you wore and who your friends were, and it was relatively complex. And here were these step-by-step instructions that were basically this flattening of identity," she said. "I've always been drawn to clothing as a mode of creative expression, and it sort of zapped it out, but it also kind of created a community. I got the sense of people writing and being like, We want to help each other, we want to make it easier for you."
She aggregated all of the how-tos into one comprehensive and automatically updating website called How to Dress Like, creating both a fail-safe solution to Halloween costumes and a fascinating cultural archive. Many are clearly and endearingly for a younger crowd, covering going to detention, dressing your Club Penguin characters like Demi Lovato, and looking like Kesha without your parents flipping out. Also popular are instructions for dressing different body types, ranging from a "cello figure" to a "petite apple shape."

Spivack's goal is to reflect what these guides say about our culture, so they are pooled without judgment. As a result, some are disturbing, such as the misinformed instructions about how to avoid sexual comments and assaults — which are in stark contrast to more nuanced discussions of rape-prevention tactics. The absurdity continues — to a lesser degree — with guides unrelated to clothing, like "How to Dress a Bay Window." The most Halloween-worthy may be the meticulous "How to Dress Like a 100-Year-Old Woman," but there's also a fair share of celebrities, including Drake and Kate Moss. Some give practical advice ("How to Dress Modestly for a Mormon Church," or "Punk at a Catholic School"), and some have alarming production value ("How to Dress Like a Right-Brained Genius"). Whether making lighthearted jokes or egregious, victim-blaming errors, these collected how-tos will definitely keep you reading.