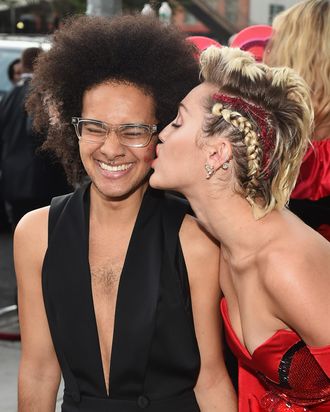 Miley Cyrus with her date, Tyler Ford, at the AmFar Inspiration Gala.
Photo: Theo Wargo/Getty Images
At last week's amfAR Inspiration Gala, our favorite unicorn of tolerance and happiness, Miley Cyrus, wore her hair in a red-glitter-encrusted braid that perfectly matched the hearts on her Jeremy Scott for Moschino gown. If you want to sparkle like Cyrus, you'll need a glitter gel called Major Moonshine, created by celebrity colorist Danny Moon, who specializes in a hair technique he dubbed colombré (he recently dyed Madonna's hair hot pink). This product is not the watered-down glitter gel you used to order from the dELiA*s catalogue, but some serious, diamond-level hair glitter that comes in an array of colors, packed in little pots. Moon, who endearingly speaks exactly how you would expect a hairstylist who works with Cyrus to speak, told the Cut about how he developed his Moonshine and his signature chromatic style.
Major Moonshine was created in a period of time of isolation and change. I set out to see the world not through a black-and-white lens or biased eyes. I went out into humanity to create connections for people through my art. I based this on my belief in a color revolution. A revolution against traditional hair color and styles that do not reflect who that person really is. It is an exotic mixture of the absolute best products I could find and use. Andy Lecompte, expert hairstylist to the rich and famous, included Major Moonshine in his strategy of excellence. Miley looked like an Angel and Andy was God.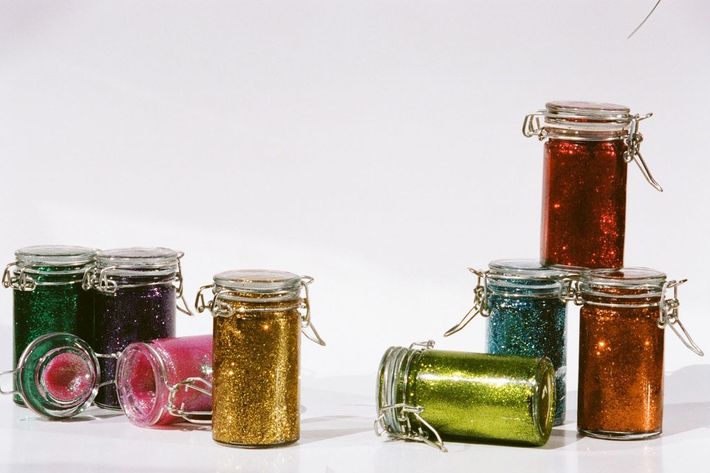 In glitter and Miley we trust.