"This is what anonymous did to my elbow." It was 10 p.m. last Friday night in Philadelphia, and I was sitting outside at a restaurant with the sociologist and author Alice Goffman. Goffman, a small woman with a drink and a plate of chicken wings sitting mostly untouched in front of her, swiped back and forth on her phone, showing me photos from last month in which one of her elbows looked normal and the other one, the site of an old injury, appeared red and inflamed. Her elbow got inflamed because she is now a controversial figure.
This is a bit of a strange turn for the 33-year-old Goffman. When her book On the Run: Fugitive Life in an American City, was released in May of last year, the reception was almost universally positive. The book chronicles the six years Goffman spent hanging out in a black poor-to-working-class neighborhood of West Philadelphia she called 6th Street (a made-up name referring to both the main commercial strip and the surrounding blocks — Goffman protected the identities of all her subjects). She befriended a group of local young men, as well as their girlfriends and family members, and saw things privileged white women usually don't: She was caught up in violent late-night police raids; she watched her 6th Street friends cycle in and out of prison; her close friend and onetime roommate Chuck, a main character in the book, was shot in the head and killed. On the Run's primary argument is that the constant specter of surveillance, arrest, and imprisonment — the legacy of a failed war on drugs — did great harm to 6th Street, turning many of its residents into fugitives and exacerbating the myriad challenges they already faced. The book did so well it migrated from the University of Chicago Press to Picador, which published it in paperback in April, and earned Goffman a March Ted Talk that is creeping up on a million views.
Goffman, like any successful author, had her critics. Some said she focused too closely on the "bad apples" of the neighborhood; others that, as a white woman, she was telling a story that wasn't hers to tell. Both critiques came up during a somewhat heated (according to participants I spoke with) author-meets-critics event held at last August's meeting of the American Sociological Association that filled the room in which it was held. Overall, though, On the Run was seen by criminal-justice reformers and critics alike as an important step in confronting America's mass-incarceration crisis — and a timely one given that the Ferguson riots would shake the country just a few months after the book's initial release. No one had done quite what Goffman had done, and she earned plaudits for her courageous, revealing ethnographic research.
That all began to change last month, when a potentially career-threatening document materialized: On May 2 — or that's when the document got to Goffman, at least — someone sent an anonymous 60-page critique of On the Run to hundreds of people in her field, including to members of the sociology departments at the University of Wisconsin-Madison, where she was finishing her third year as an assistant professor, and the undergraduate (University of Pennsylvania) and graduate (Princeton) institutions where Goffman was based when she conducted much of the research that would become the book.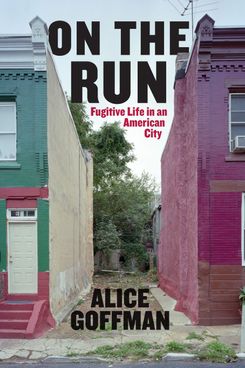 The document, uneven in its writing and logic but weirdly compelling in the sheer number of problems it purports to identify in On the Run, presents itself as a call for an investigation into research misconduct: It accuses Goffman of everything from lying about living near 6th Street (the author flags one of Goffman's former Philly addresses — in fact, it matches up exactly to one neighborhood where she says she lived in the book) to mixing up characters' ages in ways that suggest she fabricated major events. These were difficult charges for Goffman to forcefully rebut. For one thing, "I couldn't even read it for a while because it was so hateful," she explained. For another, "I don't want to call attention to a document that possibly identifies people in the book in a way that I had worked hard not to do." (Remember both those themes.) Since it appeared, it has sparked sprawling conversations on sites like the anonymous academic message board socjobrumors.com. A Twitter impersonator popped up, portraying Goffman as a whiny, clueless white girl, and got taken down the same day.
Goffman's publisher, accurately anticipating a tsunami of questions from journalists, asked her to organize her responses within a week. Hence, endless writing and typing; hence, aggravated elbow injury. (I reached out to the author of the anonymous document — or at least the address from which it originated — and didn't hear back.)
UW-Madison convened a panel to go over the document's allegations, and about a month later the university released a statement announcing the panel had "carefully considered the misconduct claims and found them to be without merit." But right around the time Goffman learned she was home free on that front, a new threat emerged in the form of a New Rambler Review article, subsequently picked up by The New Republic, written by Northwestern law professor Steven Lubet.
Lubet leveled several accusations against Goffman. The most serious was that he suggested that in the book's "A Methodological Note" appendix dealing with Chuck's death, Goffman recounted having done things that "constituted conspiracy to commit murder under Pennsylvania law." In the book, Goffman indeed writes that after Chuck's murder at the hands of boys from 4th Street, she drove around with Mike, one of the book's main subjects and her roommate with Chuck, looking for Chuck's killer. Mike had a Glock, and at one point appeared to come close to ambushing a man he thought was from 4th Street, only to decide at the last minute he had the wrong guy.
Lubet targeted two of Goffman's factual claims as well. He flagged one sequence early in the book in which Chuck is driving his youngest brother, Tim, to school, in a car Chuck had borrowed from his girlfriend. It turns out the car is stolen, and Chuck is arrested. Tim, despite being 11, is arrested as well, simply for having been in the car. He's charged "with accessory, and later a judge in the juvenile court place[s him] on three years of probation." Lubet also questioned a memorable scene in which Alex, another 6th Street boy, is dragged out of the hospital at the maternity ward by police shortly after his girlfriend has given birth. According to Goffman, police had gotten Alex's name from the visitor's list and run it, revealing he had an open warrant for violating his parole by driving without a license — she claims it was a common police practice, at least at the time, but Lubet responded that a public defender and a prosecutor he contacted were highly skeptical.
Between the anonymous document and Lubet's criticisms, it had been a rough month and a half for Goffman, and I felt sheepish as she explained everything to me. I'd read the anonymous document, start to finish — it was actually sitting in my backpack, telltale-heart style, as we spoke — and felt that while there was more than a whiff of tinfoil-hat to it, the author had at least raised some fair questions. In fact, just seven hours prior I'd wondered whether I was on the verge of unmasking the next James Frey. There's no delicate way to put this: I'd been wandering around the neighborhood I was pretty sure was "6th Street," handing out photos of Goffman, asking anyone willing to talk to me if they remembered this small white girl who used to hang out with Chuck. (Also, I may or may not have been carrying a box of Dunkin' Donuts Munchkins that I offered to people in an attempt to appear more friendly.)
I hadn't even known Goffman was in town at the time. And now, after an hour-long chat with "Miss Linda," Chuck's mom, in her home near 6th Street, and several beers with "Josh," one of Chuck's best friends and another character from the book, in an Irish sports bar in a different part of Philly, I was sitting across from Goffman herself, convinced that the basics of her book were legitimate, but plagued by remaining questions. These loose ends never got resolved, and over the next few days they led to further calls and texts and emails with Goffman, which in turn led me to two conclusions:
Alice Goffman conducted some amazing ethnographic research, and her book is almost entirely true, not to mention quite important.
Alice Goffman is going to have a really hard time defending herself from her fiercest critics.
***
Earlier that day, I'd taken a train from New York to Philadelphia because I wanted to track down at least one of Goffman's subjects, and I was pretty sure I had figured out where some of Chuck's surviving family lived.
The address led me to a neighborhood that, at least to a newcomer, was much as Goffman had described: predominantly black and certainly not wealthy, but bearing few visible hallmarks of severe poverty. It was a sweltering afternoon. I knocked at the door in question and no one answered, but neighbors on both sides confirmed the last name to me. I left a card, a photo of Goffman, and a note for "Mr. or Ms. [Chuck's last name]" explaining who I was and that I had some questions about Alice Goffman, a friend of Chuck's. (Names from the book are used throughout to protect everyone's anonymity.)
Then I walked to the main commercial stretch of 6th Street — if it was 6th Street. My goal, at this point, was just to get noticed: I wanted everyone in the neighborhood to hear about the weird dude wandering around with Munchkins asking questions. What I mostly got were people who didn't remember Alice, though one phone call a young woman made in front of me to someone else in the neighborhood did yield a vague memory that Chuck had been hanging out with a white girl back when he was alive. A resident told me that if there had been a young white girl living with a couple of kids from the neighborhood — Goffman was roommates with Chuck and Mike for a while — they had to have been sleeping together. Goffman would later tell me that she'd heard the same sort of disbelief from professors inquiring about her work.
Eventually, Chuck's mom, Miss Linda, called me — she'd arrived home and seen my note. She was very curt at first: What were my questions? What were my questions? I explained that some people were saying Goffman had made stuff up about her time on 6th Street. Her tone changed abruptly. She agreed that I could head back to her house so we could talk.
In On the Run, Goffman explains that Miss Linda "had been five years into a heavy crack habit when she became pregnant with Chuck, and continued using as the boys grew up." It wasn't the most stable of households, and the house itself, which sits on a residential block, was known for smelling bad and having roach problems, but Miss Linda nonetheless had a reputation as a fierce defender of her children.
When I arrived, I was greeted by a large 50-year-old woman in a green tank top and sweatshorts. Miss Linda had a nose stud and part of one side of her head shaved; hair from the other side swept down across her forehead. Her house was indeed a bit of a mess, with parts of the ceiling and floor rotted out and a faint unpleasant smell, though Goffman later told me it's in much better shape now than it used to be.
We sat on opposite-facing couches, and Miss Linda quickly began singing Goffman's praises. She "fell in love with her" almost immediately, she told me. "She was such a good friend to everybody, you know. She connected into my boys and a couple other of the guys, and you know, being real close friends. Met her mom, met her dad. She'd go to court cases with me, very supportive."
"When my son got killed, she was at the hospital before me, you know what I mean?" said Miss Linda. This was one of several points during my conversations with Miss Linda and Josh when they would spontaneously confirm details from the book before I could even ask about them. I'd actually flagged the scene in which Alice sits with Chuck as he's dying, simply because it was so heartbreaking and so dramatic, like something out of a movie. And here was Miss Linda, mentioning it unprompted.
Miss Linda said she hadn't finished the book, but that she didn't have a shred of doubt about whether Goffman told the story of 6th Street honestly:
What she say she saw, and the violence that was going on around here, and all the bullshit, she was telling the truth. You know? She was here when [Chuck] got killed; she was here when [another character] died; she was around when [Miss Linda's middle son Reggie] got locked up; she was [Tim's] support issue when he was locked up; she was my support issue through it all. Through it all, you know? So … yeah, I love her. I used to tease her, I'd be like, "Play that funky music, white girl" — that's how close we was, you know? Yeah, Alice part of the family.
After Chuck's death, when there were pressing fears about further violence, Miss Linda said she took Tim out of town, only to run out of money down South. "Alice wired me a hundred dollars," she said. (In On the Run, Goffman writes about the same trip in the same context, although she doesn't mention wiring Miss Linda money; elsewhere, she's open about the fact that she helped her 6th Street friends in certain ways.)
I asked Miss Linda about Goffman driving a gun-brandishing Mike around, trying to find Chuck's killers. She was skeptical. But after I emphasized that yes, Goffman had made this claim explicitly, Miss Linda seemed to talk herself into the notion a bit: "No, it seemed like something she might would do, because she loved. These. Boys," she said. "She loved [Chuck], [Reggie], and [Tim]. She loved my three sons. She loved the guy across the back, [Josh]. Those is four people that she loved, and she did all she could for all of us."
We agreed that I'd come back the next afternoon to talk some more — I asked if I could bring her lunch and Miss Linda requested McDonald's. I left her house with two very valuable cell-phone numbers: those of Reggie, who still lived with Miss Linda and either wasn't home during my first visit or didn't present himself, and Josh.
When I arrived the next day, though, Miss Linda told me right away that she was done talking. Josh was there this time around, and as he looked on Miss Linda explained that she'd discussed it with a few people and just didn't feel like she had anything to gain from being interviewed further — she was sharing her story for free. But both of them welcomed me to hang out a bit and wait to finally meet Reggie, who came downstairs from a shower a few minutes later. In On the Run, Goffman describes him as "a young man of substantial girth," and that's still true. The middle son gave me a curt handshake and mumbled a greeting, but as soon as the pleasantries were done, he headed toward the door. "I ain't talking to no one," he said, and ten seconds after meeting Reggie, that was it. "He don't like white people," said Miss Linda once her son was gone. "He has trust issues," added Josh, "for obvious reasons." Reggie had spent a lot of time imprisoned since a very young age, after all, and his older brother was murdered and his younger one was currently locked up. I sent him a text a couple of days before this story ran, and he didn't respond.
****
The night before that, I got to know Josh at an Irish bar far from 6th Street, in the quiet suburban area where he currently lives. Josh isn't present for most of On the Run, but he does play a major role toward the end. A college-educated young man whose mother is gainfully employed — Goffman contrasts his stable household with Miss Linda's — at the time of Chuck's death, Josh has more or less escaped the dangers of 6th Street. He has a well-paying job at a pharmaceutical company far from the neighborhood, but he regularly comes home to visit, and soon he's tasked with protecting Tim, who's seen as having a bull's eye painted on him. Josh ends up losing his job when an expunged possession charge is discovered by his co-workers.
At the bar, Josh came across as … well, a young, middle-class guy living in the suburbs, and a very warm one at that. Goffman's description of him as "a tall man who spoke quietly and laughed easily" pretty much nails it. A well-built man in his mid-30s who holds an M.B.A., Josh has the glow of someone entering the prime of his life — when we spoke, he was just closing on a house and proudly showed me a photo of the engagement ring he'd recently presented to his fiancée. He works extra hours as a bouncer to pay for the house and the nuptials.
Josh explained that he hadn't read the whole book — it hit too close to home — but his fiancée, who isn't from 6th Street, devoured it in just a couple of nights, peppering him with questions throughout. Josh's story about meeting Alice was pretty different from Miss Linda's. "I didn't trust her," he said. "I thought she was a police officer. I thought she had ulterior motives, so I kind of separated myself from her as much as possible." Eventually, Goffman's undeniably tight relationship with Chuck and his brothers helped Josh get past his "paranoia" about the strange newcomer to the neighborhood, he said, and it was after Chuck's death that he and Alice started to get closer.
Even before Chuck was shot, though, Josh saw just how much Goffman cared about him. When Chuck was released from a stint in prison and tried to go back to school, Josh said, Goffman "worked very hard in finding a program that would take someone that had a criminal record and put them through a program where not only would they get their high-school diploma, but they also would learn a trade." Goffman "was there every step of the way, helping with paperwork, references … " Chuck eventually got a diploma from a jobs-training program at 22, as Goffman notes in the book, and it's proudly displayed at Miss Linda's house, alongside photos of her eldest son as a young boy. (All I got was a quiet "maybe" when I later asked Goffman if she helped Chuck get his diploma.)
According to Josh, many of the 6th Street boys were ambitious, but "just really didn't know the avenues to go down to even put a spark to that fire." Goffman tried to help them out. "She exposed us to a lot of avenues that we wouldn't typically see in our neighborhood," Josh said. "Just the trips to the University of Penn or when she was in Princeton, and being around all these professors and these academic guys that were thought leaders in their own little specialty. It broadened our horizons."
I asked whether Josh thought On the Run would, by bringing the story of 6th Street to an audience composed largely of white liberals, help make law-enforcement practices less draconian in the long run. He was a bit skeptical: Sure, there are people who will read the book and be sympathetic, he said. But on the other hand, some will read it, see the undeniable level of violence on 6th Street, and say, "This is the reason why. This is the reason why we're policing them every day, because none of them can stop breaking the law if they wanted to."
"She was so real with the book and open with the truth," said Josh. "I think in a way it almost contradicts her crying out for help, right?" — referring to Goffman's claims that the neighborhood was over-policed. "Because it almost promotes more criticism of the individuals that live in this community and the things that they do. So it kind of goes against her argument of less policing." The problem, as Josh saw it, was that Alice "fell into a very rare particular group of individuals." While "most young black men aren't running around with guns," the ones Goffman was hanging out with on 6th Street were. (For what it's worth, Josh's account here is backed up by a lot of criminology research suggesting that in violent communities, a small percentage of young men are responsible for most shootings. Also, Goffman devoted a portion of her fieldwork and her book to hanging out with a group of gainfully employed black men with more traditional, for lack of a better word, daily routines.)
In fact, Josh worried that Goffman was too truthful. "Would I have liked her to be as open and honest about everything in the book?" he said. "Of course not! 'Alice, you didn't have to put that in there. Did you, really? Come on!'" He continued: "I think there was a lot of things that were talked about in the book that were just really, really real." To Josh, the "almost unbelievable" parts of the book explain why Goffman is catching so much heat: "Why wouldn't she?" he said. "I get heat. If I go to the hood in North Philly and I tell them everything that happened to me, they'll look at me and be like, 'The fuck, dawg, who are you, Scarface?' Now, imagine someone from Goffman's background telling that story instead. 'She's a little-ass white girl, how the fuck does she get this story? How does she get this? What does she do, who does she sleep with, who does she pay off to get this story?'"
Josh mentioned that he had plans to meet up with Goffman on Sunday, which surprised me since I didn't know she was in town. Eventually he called her, reassured her about me, and handed me his phone. She sounded shaken — she was terrified that a journalist was drinking with one of her subjects and friends, and had earlier that day showed up at the door of another. I told her over and over that my plan wasn't to out anyone, and then asked if she'd meet up for a drink later downtown. She agreed.
***
At the restaurant, I asked Goffman if maybe some of the issues that have come up could have been avoided if she'd made it clearer in the book that, in certain instances, she was reporting what other people had told her, and that these accounts might not match up perfectly with official records. It's no secret that people often misunderstand the legal threats they face; in On the Run, for example, there's a scene where one character doesn't even know whether there's a warrant out for his arrest.
"What I was trying to do was report from my own observations of what I saw happening, and then also from people's accounts immediately after things occurred," she replied. In other words, "The official truths of what is supposed to happen, or what on the books is allowed to happen, that was not the point of this book." This is a big theme for Goffman: in discussions of criminal behavior, particularly as it pertains to black men, it's usually the police or, more broadly, the state that gets the last word. Goffman wanted to avoid that.
Part of me started wondering if maybe Goffman came from a different culture of fact-checking — one that's less concerned with the nitty-gritty details that obsess journalists and lawyers.

But Goffman's dissertation adviser, the Princeton sociologist Mitchell Duneier, cautioned strongly against this assessment. During Goffman's time at Princeton, he said, "There was a constant sending her back for more details, more facts, more interviews on a whole variety of different questions and issues" — sometimes, she would put folks from the neighborhood on speakerphone. A warrant officer from Philadelphia — a "brilliant one with vast knowledge" — also read a big chunk of Goffman's research, and Duneier got dinner with him twice to talk about her work. This officer corrected some things, but mostly endorsed Goffman's account, and Duneier is positive he read about the hospital arrests. Duneier also pointed out that Goffman didn't have access to the same type of fact-checking superstructure that, say, print journalists do, and that he thinks "some of these issues would have been clarified in advance of publication" if she had. "Yeah. I wish I'd had that," Goffman said later.
Whether or not she would have benefited from more thorough fact-checking, Goffman doesn't always come across as having mastered the nuances of these sorts of public debates. A back-and-forth between her and Lubet, who wrote the New Rambler Review critique, captures this dynamic perfectly. After Lubet suggested Goffman had incriminated herself, Goffman published a statement on her website that reads in part:
After Chuck was shot and killed, people in the neighborhood were putting a lot of pressure on Mike and Chuck's other friends to avenge his murder. It seemed that Chuck's friends were expected to fulfill the neighborhood's collective desire for retribution. Many of the residents in the neighborhood were emphatic that justice should be served, and the man who killed Chuck must pay. But they weren't actually doing anything.
To which Lubet responded like a shark catching a whiff of blood floating nearby:
Which "residents in the neighborhood" could she possibly be talking about? Surely she could not mean the working people, parents of children, block club members, community activists, and young students of the 6th Street community – all of whom would have been appalled at the thought of continuing the cycle of reciprocal violence that has brought so much grief to so many people. Has anyone ever known of a neighborhood where the "residents" wanted more gunfire?
No, what Goffman meant was that "the neighborhood" as she experienced it — the boys of 6th Street and their friends and family — were devastated by Chuck's murder, and that some of them wanted his killer to pay, not that every person in the neighborhood felt that way. But these are exactly the sorts of minute distinctions that Goffman's critics are feasting on.
This same lack of precision in language — and, in some cases, eliding of important differences — came up during Science of Us's mostly unsuccessful attempts to fact-check the claims flagged by Lubet. It's clear, the Philadelphia magazine has noted , that sometimes people get arrested when they're visiting friends or relatives in the hospital. But Goffman's claims about hospital arrests are stronger than this, and so far they aren't quite holding up.
As part of her defense against Lubet's accusations, for example, Goffman wrote that Children's Hospital of Philadelphia "selectively run[s] the names of … visitors in criminal databases." CHOP responded to Science of Us that visitors' names are indeed checked against a Megan's Law database of sex offenders, and these individuals aren't allowed in, but that CHOP doesn't share these names with law enforcement. When asked about the existence of a broader policy, perhaps unofficial, of sharing visitors' names with the police, half a dozen people who work on CHOP's front lines — nurses, ER intake workers, and doctors — all told Science of Us the same thing: It doesn't happen, and rumors about it weren't even on these employees' radars.
Josh, meanwhile, said that he and his friends did fear getting arrested at hospitals, and remembered a couple of instances in which this had happened — they were scared to enter the hospital after Chuck's death, for example, because of a law-enforcement presence there. But Josh also said that the police were, at the time, very interested in the boys of 6th Street; of a friend who, according to him, got arrested visiting his girlfriend in a maternity ward, he said, "Now, mind you, his arrest was for some crimes that were very serious, so take that into consideration."
As for Tim's arrest at 11, Josh said he did remember it. "Oh yeah, definitely," he said. "That's what kinda messed up his whole … life after that." He couldn't remember exactly what Tim was charged with, though — "It was a joyriding charge, or something like that? It was something ridiculous. His brother [Chuck] was taking him to school." He also couldn't remember how old Tim was, but guessed elementary school. So again: There's evidence to support the broad category of claim — certainly young kids do get arrested in America — but a frustrating dearth of information that would support Goffman's report of an 11-year-old getting arrested simply for riding in a stolen car. (Bradley Bridge, a longtime public defender in Philadelphia, told Science of Us via email that he was very skeptical of the story as described by Goffman. "Where was his attorney?" he asked.)
If Goffman had been a bit more explicit about her methodology and her inability to track down every little claim, maybe these controversies wouldn't have popped up. Instead, she seems not to have anticipated so many close and critical-minded readers and, unfortunately, there are parts of On the Run that any fair-minded observer will agree lack sufficient context or explanation.
For example, Philip Cohen, a sociologist at the University of Maryland, published a blog post in which he puzzles over the strange results of a door-to-door survey Goffman says she conducted with Chuck in 2007 in On the Run. The results are implausible in a number of ways. But Goffman explained to me that this wasn't a regular survey; it was an ethnographic survey, which involves different sampling methods and different definitions of who is and isn't in a household. The whole point, she said, was to capture people who are rendered invisible by traditional survey methods. (Goffman said an error in the American Sociological Review paper that became On the Run is causing some of the confusion — a reference to "the 217 households that make up the 6th Street neighborhood" that should have read "the 217 households that we interviewed  … " [emphasis mine]. It's a fix that addresses some of Cohen's concerns, like an implied and very unlikely 100 percent response rate, but not all of them.) "I should have included a second appendix on the survey in the book," said Goffman. "If I could do it over again, I would."
***
Goffman comes across as hyperempathic. Even if this is the very trait that helped make On the Run so compelling, it also might be making it hard for her to vigorously defend herself. She wouldn't even say anything all that negative about her anonymous attacker — instead, she said she wished she could take this person aside and tell them that their work, whatever it is, matters. She'd also rather let people bash her than do anything which might bring more unwanted attention to 6th Street.
One story best illustrates this side of Goffman. It's about cat videos, and she agreed to let me use it only if I made it clear that she's not comparing her human subjects to cats. A journalist wanted to do a story about On the Run, Goffman explained, and she was trying to figure out whether to work with him on it. She looked up his prior work and saw that, among other things, he had written a light article about Maru and other super-famous YouTube cats.
"They're funny to people," Goffman said of these videos. "They're really funny, these cat videos. And my feeling was, these cats don't have any choice in this, and why are they being pushed into the bathtub for sport for all of the humans to watch? Why can't you just honor what the cat wants and not make a funny video about a full-body protest against being in the water? And we're all watching it for fun? I don't find anything funny in the cat videos."
Alice Goffman is early in what looks to be an extremely productive career as a sociologist and a passionate advocate for a more humane justice system. But as for whether she'll win the skirmishes over On the Run that lie ahead — skirmishes that will be adjudicated on blogs and Twitter and academic message boards, and which will affect how seriously people take her and her important argument — it's hard to be optimistic. On the one side are lawyers and journalists and rival academics who all stand to benefit in various ways if they can show that On the Run doesn't fully hold up; on the other is a woman with very little interest in defending her own reputation, empathy for her attackers, and a sense that if she defends her work too earnestly, she could harm people she loves.
The last time Goffman found herself in such an unfamiliar setting — 6th Street — she flourished; this time, she still hasn't mastered the rules or the culture of the place.
Bobby Allyn contributed reporting.