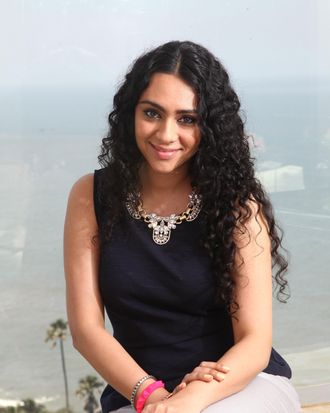 Photo: Courtesy of Parizaad Khan
Through our Beauty Passport series, the Cut continues to look at global beauty standards and practices. This week we spoke with Parizaad Khan, a former beauty editor and current contributing editor to Vogue India. She explained why she thinks Indian makeup "trends" don't really exist, the Ayurvedic approach to beauty, and why you never see bedhead in Indian beauty advertising. 
First of all, the biggest misconception is that there is such a thing as one "Indian beauty." But if I had to give one word to broadly describe an Indian approach to beauty, it would be "ancient" — it's a very old and established culture. Only a few decades ago, many Indian women consumed beauty through DIY methods: Make an oil at home, add herbs and other ingredients to it. As our economy opened up in the '90s, there was an influx of Western products, but there's been a return to respecting Indian traditions. There was a time where everyone thought it was old grandma recipes, but it seems we've moved past that and can see the value in them.
You can't have beauty without health and wellness. Ayurveda [Editor's note: Ayurveda is an ancient traditional medicine system that originated in India] has always stressed meditation, massage, and healthy, mindful eating. Indians are obsessed with anything natural. Stick the word natural on a product and they will buy it. Natural brands like Karma and Forest Essentials all have beautiful skin-care products. There's a hesitation to use chemicals or preservatives in skin care. For example, when I'm in India I can never find acid exfoliators. I can't go out and buy an AHA toner. The market is still nascent in that sense.
One of the biggest mass-beauty influences is Bollywood — nothing else even comes close. It's a pretty standard kind of look: long hair; heavily made-up eyes; a voluptuous, curvy figure. In the '90s and all through the 2000s, nude lips with smoky eyes was this huge Bollywood look. Nothing changed for a solid two decades. Around 2010, bright lips came in. In India, makeup trends tend to stick around for a while.
On a day-to-day basis, the Indian women I know don't wear that much makeup. The focus is on hair. Makeup might be a little touch of kohl — that is the one product every woman would have, more so than mascara. I usually see it used on the lower waterline as a pot or pencil, as dark and black as possible. L'Oréal and Maybelline all make kohl pencils for the Indian market. Traditionally, kohl is formulated with soot and wax and can be used inside the eye. I don't use a normal eyeliner pencil on my waterline.
It's traditional to grow up having oil massages. Someone at home, usually your grandma, rubs the oil in your hair and lets it soak in, then you wash it out the next day. It can be pure olive oil, coconut, Moroccan, sesame, or different meditative oils with herbs or Ayurvedic ingredients. You can't sell enough oils to an Indian. Straight hair used to be a big deal, but now more people are embracing natural texture and waves. Still, I was once told by an ad executive that they didn't want girls who have bedhead or frizzy hair. Back in the day, it signaled a loose kind of woman, like she just got out of bed.
Aging is a big beauty concern. Wrinkles are not so prominent, but we get pigmentation and uneven skin tone as our skin ages. We also don't like to use a lot of sunscreen because it's so hot and sticky and you don't want a film of oil on your face. From a social perspective, historically there has been an emphasis on being fair. But it's more insidious than that. There is this incredibly successful old product called Fair and Lovely. It's the best-selling Indian beauty product and it is a skin lightener or brightener [that doesn't contain bleach]. You can find it in even the tiniest of Indian villages, the smallest stores will probably sell it, even as a sample sachet. (Sampling sachets are how a lot of rural Indians buy products.) But increasingly, in urban areas, women are getting tan and going to beaches. It's ingrained into our advertising and stereotypes that say that dark girls don't get ahead. We as a culture need to move away from this mind-set. Our culture is incredibly diverse; we have skin tones from the darkest to fairest. We have been embracing that more and more — even in advertising. It's opening up.
This interview has been condensed and edited.