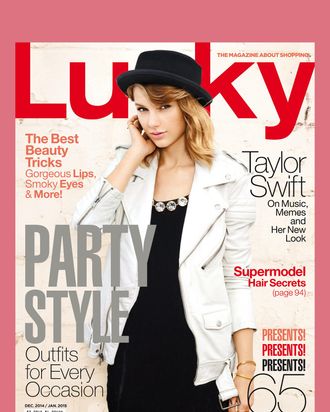 Reports were swirling yesterday about the fate of Lucky magazine — had the print edition folded? Had the entire operation shut down? According to insiders, the former is true, while the latter is still to be determined. The Cut spoke to a former staffer, who said that another brutal round of layoffs took place, including the remaining print team. "People who worked there for 12, 13, 14, 15 years were laid off without severance." On Friday, a few assistants had been laid off: "They didn't even find out through HR — they found out through the payroll company." (The assistants in question did work through a third-party staffing agency, according to the source.)
The insider laid the majority of the blame on new parent company BeachMint, saying, "There was no clear concept … You can't launch a business with a 'we'll figure it out' attitude. It kind of felt defeated from the get-go, but no one had a choice. It just felt so doomed. There was one round of layoffs, then another." The Lucky Shops e-commerce concept was not a runaway success, according to this former staffer, who said, "I think sales are pretty flat. The only [category] that was really selling was beauty." Meanwhile, a smaller contingent remains on the online staff, and the Lucky Shops site was still posting content as of yesterday, and tweeting as of today.

Of ex-EIC Eva Chen, who parted ways with the company in April, the insider said, "I find it really insensitive for her to be posting pictures of happy-face macarons when her staffers are unemployed."

We've reached out to both Lucky and BeachMint for comments on the above, and will update this when we hear back.