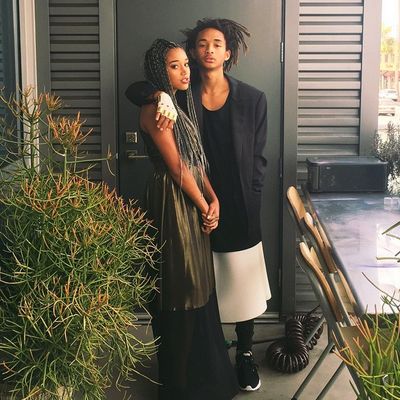 Photo: amandlastenberg/Instagram
Say you're a high-school-age girl of moderate fame living in the Greater Los Angeles area. It's prom season and you don't have a date. Whom will you take? A normie classmate who isn't worthy of the Instagram likes your prom photos will elicit? A regular old High School Joe who thinks a rented tux, lukewarm wine coolers, and tentative groping is peak life? A rent-a-boyfriend? Please.
Jaden Smith, consummate prom date, probable excellent dancer, and known sartorial-risk-taker appears to be available for all prom needs.
After proving his mettle by donning a white leather Batsuit to escort budding pop star (?) Mecca "Crystal Mec" Kalani, Smith was back on the prom circuit this past weekend, this time as the date of Hunger Games actress Amandla Stenberg. As usual, Smith elevated the prom-photo experience by donning a cool as hell color-blocked dress, fingerless white leather driving gloves, and, of course, a rose-and-baby's-breath corsage.
There are still a few weekends left in the 2015 prom season. Call Jaden today.