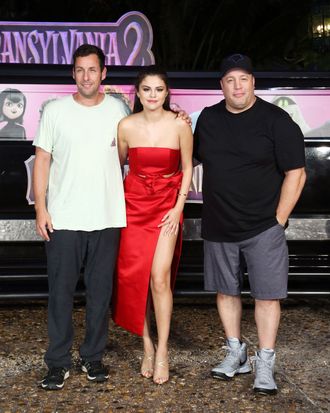 Photo: Victor Chavez/Getty Images
First came the relative decline of the male physique, the preference for washboard abs slowly giving way to an affection for the comforting chub of a dadbod. Then, as spring turned to summer and mandals were resurrected from their storage bins, something curious began to happen: Suit jackets gathered dust on their lapels. Gifted ties lay unopen in their tissue-paper wrapping. In lieu of these traditional trappings of masculinity, men began to don outfits that seemed to draw inspiration from Apatow characters over the runways. The flip-flops. The rumpled cargo shorts. And then there was the "F–K FOREVER" T-shirt.
Welcome to the summer of schlub.
In retrospect, this style plummet was probably inevitable, but the reality of widespread male schlubbiness came into sharper focus on Tuesday when former Florida governor Jeb Bush announced his candidacy for president. In an attempt to distance himself both from his famous family and the other Republican candidates vying for office, he eschewed the traditional uniform of a dark suit and staid tie for a simple button-down.
"Abandoning the jacket and tie is a pretty clear effort to emphasize his independence and modernity, and his awareness of how the younger, non-tie-wearing generation likes to dress," writes the Times.
Farther up the East Coast, a war over encroaching schlubbiness is brewing at the Yale Club in New York, where last year a young member dared to wear a T-shirt emblazoned with the phrase "F–K FOREVER" across the front. According to the Post, today is the club's annual meeting, at which it will discuss the following letter about the outrageous incident:
A horrifying example of this denouement, this sad decline in the atmosphere and spirit of the club, occurred on September 5 in the men's locker room. A young man (a Yale law student) was wearing a tee shirt emblazoned in large letters with: 'F - - k Forever.' I was shocked and told him that it was offensive and inappropriate; that this was a club for ladies and gentlemen. He smirked. Why was he allowed through the front door? Why did those on duty at the desk at the locker room allow him to enter? Why was he allowed to walk around the club dressed as such? Is there no decency at the club anymore, no class? Will the management be held accountable (and members)?
And on Tuesday, two dadbods who perhaps represent the pinnacle of schlubbiness — actors Adam Sandler and Kevin James — showed up to the premiere of Hotel Transylvania 2 wearing sweatpants, T-shirts, and sneakers. Their co-star Selena Gomez apparently missed the summer-of-schlub memo, because she arrived dripping in elegance, posing for photos in a red satin top and skirt.
With athleisure making its way into the fashion lexicon — and yoga pants replacing the previous benchmark of casualwear, jeans — it's only a matter of time before we eschew fashion altogether and dress exclusively in burlap sacks.