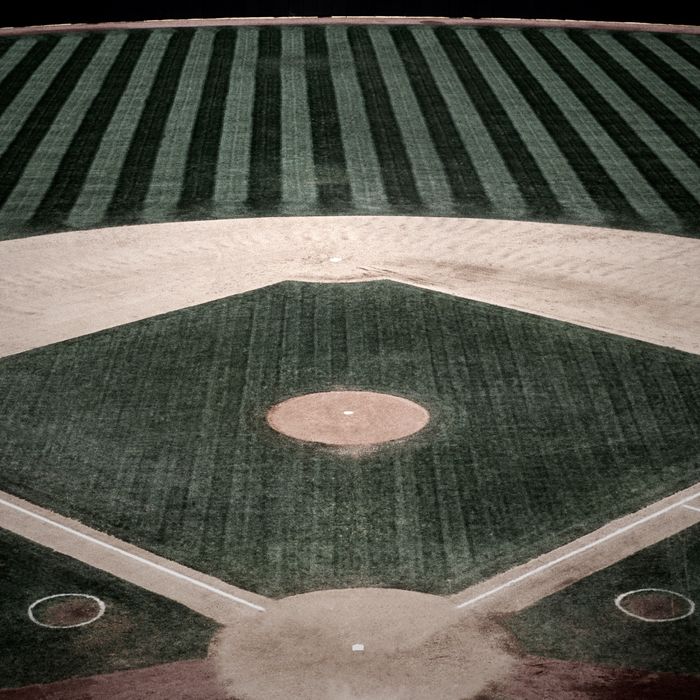 New York's "Sex Diaries" series asks anonymous diarists to record a week in their sex lives — with comic, tragic, often sexy, and always revealing results.  This summer, the "Sex Diaries" will appear on the Cut as a special edition. Check back Tuesday afternoons for your weekly peek behind doors left slightly ajar.
This week, a hockey player who can out-sext anyone and loves dogs more than ladies: male, 34, Long Island, hospitality industry, in an on-and-off relationship for five years, straight.
DAY ONE
7:30 a.m. I wake up next to my on-and-off girlfriend. Let's call her Relationship. I try to get some. The answer was an astounding no.  I look at Hamilton (my dog, and the only person that gets me) in disgust.
Noon Relationship and I have the most wishy-washy situation ever. She's dumped me about 100 times in 5 years, but she always comes back. Meanwhile, I am talking to a couple others. I love "textual relationships." I pretty much sext all day. I can get any girl to send me a bathroom-sink photo within 100 texts.
6:30 p.m. Hockey after work, then beers with the guys. We won the championship. Girls love to hear about that stuff, or at least act like they do, which is fine too.
8 p.m. I talk to this girl in Portland whom I actually really like, but she is in Portland so our relationship is generally all over the phone and/or FaceTime. Luckily she is coming to town tomorrow. I told her I scored two of the five goals, and she said she will reward me tomorrow … classic.
DAY TWO
7 a.m. I have an early meeting, so conduct a quick jerk. Never good to go off for the day with a loaded gun. Portland gets in around lunch so I am going to see her, then she is busy tonight, which works out perfectly because I have softball.
11:30 a.m. Work sucks! Uneducated, simplistic, dumb fucks!
12:30 p.m. Lunchtime with Portland was a good time. Lot of kissing, fun, flirty touching. She is especially cool. We know everything  about each other …. good, bad, ugly. We originally met through work. Actually, I was banging her friend. We went behind her back, which is always exciting and fun.
8 p.m. Softball at night. Text with Portland, all flirty and fun. I told her to listen to Eric Church, "Like a Wrecking Ball." Her response? "I cannot wait to fuck you hard!"
DAY THREE
6 a.m. Wednesdays generally suck because I have an early morning meeting.  I wake up to missed calls and texts from Relationship, Portland, and a number I don't know (those are always interesting).
11 a.m. Portland is still reeling from the song. She keeps texting about how excited she is we are in the same city.
Noon Relationship is asking to hang out tonight but obviously that's not going to happen with Portland in town. Some backstory: A year ago I was seriously ready to commit to Relationship and she ran. It hurt. Sometimes I feel I am spinning my wheels there.
1 p.m. Day sucks a fat cock! I am ready to leave and go have some fun!
5:30 p.m. Post-work volleyball, which Portland comes to. She has a great time with anyone. We all drink Jamesons after.
7 p.m. We head back to my house. I am sweat-and-sand-covered — something girls seem to love. She was all over me.
When I drink I can get very aggressive … not in a creepy or violent way, but I like to be in charge. I pick her up and push her against my hallway wall (this must be a go-to move or something, cause my buddy Steve says I have repainted my hallway more than anyone he has ever met?).
We take a shower. I love having a seat in my shower. Off to my bed!
8 p.m. Nothing beats carrying a girl into your bed and throwing her on there. Makes you feel like a man. I was drunk so there was a lot of me pulling her hair, gentle-ish choking, words back and forth about how hard, where, and what way.
I'm not claiming to be a champion in the sack, but I focus on getting her off as many times as possible before I fire my ammo. I always win and sometimes they don't. That's called life. In this instance we both win. She wins three times. Thank you, Eric Church!
DAY FOUR
7:30 a.m. Wake up next to Portland. Hard to think she's leaving in a few days. Yes, I have emotions … please relay this message to my previous exes.
Speaking of exes, I get a call, same number as the unknown text from the previous day. I refer to this girl as Lightbulb because we once had a whirlwind of a relationship, got engaged, epically failed after two months of engagement, and after it was called off … she gutted my house, all the way down to all of my lightbulbs and batteries in my remotes. This happened seven years ago and she randomly pops up here and there. I have ZERO interest other than fucking her until she buys me 37 lightbulbs. Do you know how hard it is to find some of those batteries for fan remotes?!
7:30 p.m. Relationship comes over with her dogs. She has two boxers, 9 months old.
I love dogs more than humans. All they know is unconditional love. You can do what you want to a girl, but leave dogs alone! If I were to lock both a girl and my dog in the trunk of a car for three hours (which I would never do to the dog), when I open the trunk, that dog is going to be pumped to see me, and the girl is going to whack me in the face with a tire iron!
9:30 p.m. I watch baseball, she watches some shitty reality show. I am utterly confused by Relationship … you had the chance to be with me forever and blew it.
1:30 a.m. We crawl into bed. No nookie tried!
DAY FIVE
7 a.m. Off to the shower to make knuckle children. A Lightbulb hate-fuck crosses my mind as fantasy material.
7:15 a.m. Relationship walks in. Her feelings are hurt that I'd rather jerk off than be with her. Apparently she isn't feeling sexy right now. I have a soft side and feel bad. I tell her she is gorgeous. We make plans to have sex later that night, which to me is extremely unsexy. Like, please send me an Outlook invite and I will accept, decline, or be tentative … WTF.
11 a.m. Work is yet another shitty day where I am mad at everyone.
12:30 p.m. Lunch with Portland. She is using words like "live, laugh, love, want, need, miss, care…" which are nice to hear, but confuse the shit out of me. She and I have a simple relationship. I go there, we fuck everywhere possible, she comes here, we have sex, we meet in various locations around the U.S., we have a lot of sex, etc.
7:30 p.m. Relationship and I attend a concert. We have a great time, I think, because of the tension of the morning. It's on when we get home. I love kissing, but Relationship is not a big kisser, so it's a struggle. She likes to have the kind of sex that boring people have. She used to be different. I am unsure what changed.
DAY SIX
8 a.m. You are thinking I am a selfish asshole … okay. Listen, Relationship won't commit, Portland is in Portland, and Lightbulb is, well, fuck her.
2 p.m. Golfing with the guys. Golf is the perfect time for textual relations! I focus on Portland. This shit between her and I could be very real and my dog really likes her. She wants to get, and I quote, "properly fucked" prior to heading home. Now what kind of a guy would I be without granting these wishes?
8 p.m. Portland and I go to dinner, have wine, and do it in the car. Sex is always better in random locations. She stays the night so I can take her to the airport in the morning. Hours of pushing, biting, and choking from every angle …
DAY SEVEN
10 a.m. Take Portland to airport. I really love our chemistry.
Noon Portland is the wild card. I think about her all day, ignoring Relationship and Lightbulb. She gets me. I like to be aggressive, playful, intense at times; I like to have passion, and kiss, and I don't want that to dissipate. As of now, she's the only one who can handle it.
5 p.m. I have a fluke moment of hardcore thinking time. Am I a sex addict? Eh, maybe a little. But it's mostly for the thrill of things. It's all a big game. And I love it.
Want to submit a sex diary? Email sexdiaries@nymag.com and tell us a little about yourself.