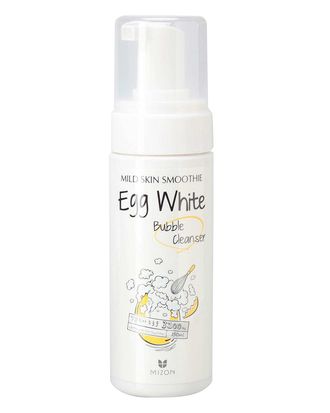 Mizon's Bubble Egg White Cleanser
What's exciting about cleansers? Nothing. They are boring, forgettable, and often overpriced. Aside from a delightful fragrance or the occasional inventive formula, a cleanser has never moved me to excitement. But then, a few weeks ago, I tried Mizon's Egg White Bubble Cleanser, a face wash that drove me to such joy, I simply can't stop talking about it.
As the name suggests, this is a foamy wash made of egg extract. You would never know it though, because it doesn't feel eggy, and it smells floral and eerily similar to Estée Lauder's Pleasures. Application is straightforward: Pump it once or twice on top of fingertips, massage the cleanser all over a damp face, and rinse. It takes about a minute, and yet, within that minute, my face feels totally transformed. My skin — even the skin on my fingers where I pumped the cleanser — is instantly smoother. It feels as though I've done a microdermabrasion treatment, or a super-intense acid peel. The pores around my nose look positively tiny, and after I've dried my face, the cleanser leaves my skin neither dry nor still oily, but balanced. Simply put, it's the best cleanser yet to touch my face.
Mizon Egg White Bubble Cleanser, $23 at Peach and Lily.