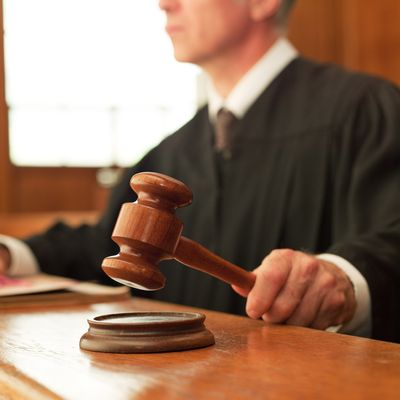 On Thursday, in the first court verdict of its kind, a New Jersey jury found that a group offering gay "conversion therapy" violated the state's Consumer Fraud Act. The court ruled that claims
— including that the therapy has a basis in science and a proven record of success repressing homosexual urges and desires — made by the group, Jews Offering New Alternatives for Healing (Jonah), were fraudulent.
So-called "conversion therapy," based on the theory that homosexuality is rooted in childhood trauma — such as distant fathers, overbearing mothers, or early sexual abuse — has been widely discredited by psychiatric and medical groups, who have said the theory is unfounded. Many medical and psychiatric experts also note that such therapy is potentially dangerous, as it can result in agonizing guilt and turn people against their parents. New Jersey, California, Oregon, and Washington, D.C., have all banned conversion therapy for minors — yet this court ruling marks a landmark decision that could restrict access for adults, too.
New Jersey passed a law in 2013 that bans licensed therapists from practicing conversion therapy — yet, strangely, that law had no bearing on this decision, as those practicing the therapy are not licensed. The group claimed a success rate of 65 to 75 percent ("converting" gay men to become straight), though it didn't keep statistics and relied on anecdotal evidence.
The plaintiffs — three men from Mormon and Orthodox Jewish families who sought therapy for religious reasons, and two parents — claim that the treatment also left them scarred. They described being forced to engage in cuddling sessions with other men, as well as participate in violent role-play exercises, including a locker-room scene involving gay slurs. One client said he was told to beat a pillow — meant to represent his mother — with a tennis racket.
"This is a momentous event in the history of LGBT rights," David Dinielli, an attorney for the plaintiffs, told the AP. "The same lies that motivate gay conversion therapy motivate homophobia — that gay people are broken and need to be fixed."
"It's a warning to conversion therapists everywhere that by practicing this discredited therapy, they are making themselves liable for the harm they cause," attorney Sam Wolfe added.
The plaintiffs were awarded three times their financial losses, $72,400, plus lawyers' fees. The lawyer for the defendants says he plans to appeal the decision.