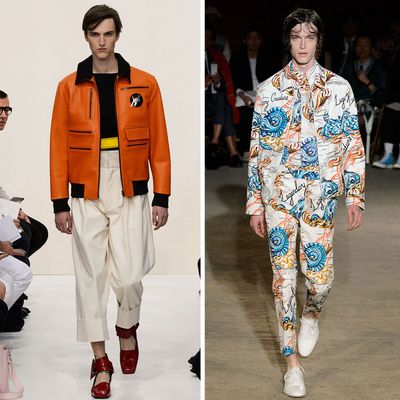 The setup for J.W. Anderson's spring 2016 menswear show in London yesterday was starker than usual: white floors and white, canvas-covered benches, no enigmatic show notes (last season's referred to "pataphysics," among other mysterious ideas), and no fuss. Formula One world champion Lewis Hamilton, the latest ambassador for London Collections: Men's, caused a stir on arrival — but other than that, the crowd was relaxed. Regular attendees of Anderson's shows know the score: It's always the same venue, the same time, and the same people — the excitement comes from finding out what kind of gender-blending, avant-garde vision the designer has cooked up this season.
This time, Anderson left his 1970s flavor behind and opted for full-throttle futurism. He peppered his collection with references to aviation and space exploration, with words like "flight," "orbital," and "asteroids" embedded into knits and stitched onto cropped sweaters. There were also notes of weirdness: The models carried racks of trinkets, from bells, whistles, and keys to the occasional fur tail. But an unusual accessory has always been Anderson's thing (last season, his models carried little spoons). His other signatures endured, too: He continues to play with nipped-in, androgynous silhouettes, this time showing paper-bag-waisted, stiff denim trousers that ended mid-shin. The shiny, buckled shoes with ankle straps were sturdy and strange — and an orange leather bomber jacket felt like a classic Anderson piece that would fly at retail.
Over at Alexander McQueen, it was a characteristically darker mood. Taking over a series of cavernous railway arches in Southwark, Sarah Burton showed intricately detailed prints and embroidery over tailoring. There were trompe-l'oeil war medals and epaulettes, continuing last season's military theme. But there were also unexpected emblems — a tattoo of mermaids, stars, and chains stretched over the breastbone of a suit, while elsewhere a tiny print revealed a pair of wrestlers, repeated ad infinitum. There were polka dots and patches of fraying, but most flamboyant of all was a head-to-toe sea-monster print declaring the words "Legendary Creature" in a curling script.
Burton's models, looking as ominous as they do every season, had matted, wet, and frizzy hair, like they'd been caught in a storm. As the show came to a close, the rest of us just had to follow the daylight out of the gloomy arches and into the kind of misty drizzle that London specializes in.