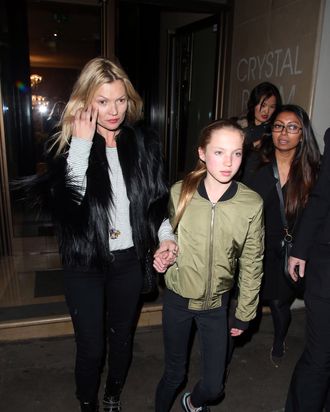 Photo: Splash News/Corbis
Kids say the darndest things — especially when they're being interviewed about their supermodel moms. Today the Telegraph alerts us to an interview conducted on the social network Ask.fm, with accompanying casual spelling. In her first-ever interview, Kate Moss's 12-year-old daughter Lila Grace spilled that "like every mum she's embarrasing and annoying but u love them rlly [sic]." Sounds like she's forgiven her for Basic Bitch–gate. 
Would the junior Moss like to be in a fashion profession when she grows up? "Mayb a fashion designer," she said. "But defo not a model [sic]." Hey, there's ample time to change your mind on that front.