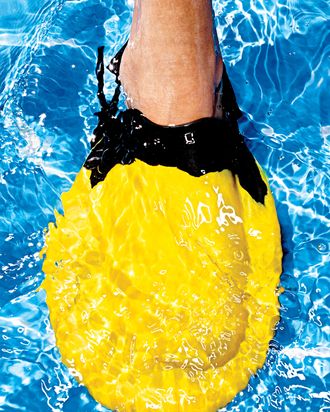 Finis Positive Drive Fins.
Photo: Bobby Doherty
The goal: Find a pair of training flippers that will guide and correct any kid's kick and give an edge on the summer-beach-club competition circuit. Private instructors and Horace Mann swim coaches steered us away from long and flexible fins (too heavy for small feet) in favor of stiffer and shorter options that propel little bodies faster and adjust off-kilter strokes while mimicking the feel of a finless foot.
The verdict: The Finis Positive Drive Fins' ($18 at Leisure Pro, 42 W. 18th St.) patented oval blade makes for the rare flipper that will transform an uneven breaststroke kick (the stroke with the trickiest mechanics) by forcing feet to flex inward as they push back, which builds power in the legs and makes it easier to kick both feet backward simultaneously. They're available for ages 3 and up, and the heel straps adjust.
*This article appears in the June 29, 2015 issue of New York Magazine.