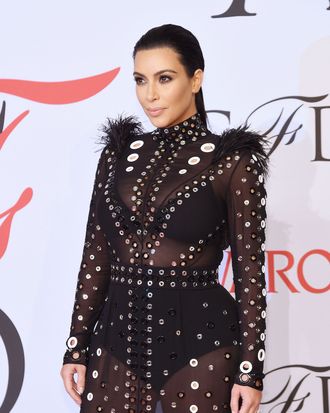 Photo: Jamie McCarthy/Getty Images
Perhaps nobody is more familiar with the objectification of women in media than Kim Kardashian, who until very recently was routinely dismissed as an airhead who only got famous from a sex tape. But through her social-media feeds and projects like Selfish, she's managed to subtly manipulate her reputation and regain some of her autonomy. After all, if the media is going to objectify her, she may as well give them photos where she looks her best.
Next week Kim will take her media savvy to the lecture circuit, appearing at INFORUM in Oakland to give a public interview about her family's cultural legacy as well as "the objectification of women in media." The event is presented by the Commonwealth Club, the country's oldest civic forum, which has previously hosted luminaries like FDR, MLK, and the Dalai Lama. Now we can add a Kardashian to the list.
VIP tickets start at $300, so unless you're Kardashian-rich, you might want to just hope someone live-tweets it.