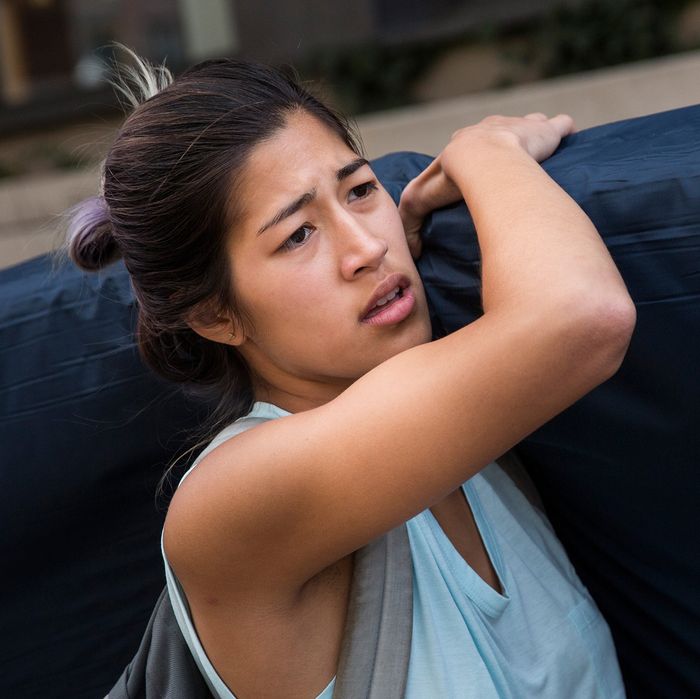 Photo: Andrew Burton/Getty Images
Lawyers for both Columbia University and Paul Nungesser, the Columbia student who activist and "Mattress Girl" Emma Sulkowicz says assaulted her in her dorm her freshman year, have filed a joint letter summarizing their basic arguments in a discrimination suit brought by Nungesser. Filed in April, the suit uses the statute protecting students against gender-based discrimination established by Title IX to argue that Columbia discriminated against him by denying him opportunities provided to Sulkowicz.
In the letter, published by a Wall Street Journal reporter, Nungesser's lawyers argue that Columbia permitted Sulkowicz to run a "gender based anti-male discriminatory harassment campaign" against Nungesser that painted him as a rapist despite the fact that university proceedings cleared him of any wrongdoing. They also argue that Columbia did nothing to stop Sulkowicz from constructing a "public persona surrounding her false allegations, which has led to the posting of videos and other proposed performances depicting Plaintiff Nungesser as a rapist."
Columbia's lawyers do not deny Nungesser's lawyers' accounting of Sulkowicz's actions, but they claim they're "not responsible or liable for her conduct."
The letter says both parties are open to discussing settlement options, which could be explored on July 1 during a pretrial conference.