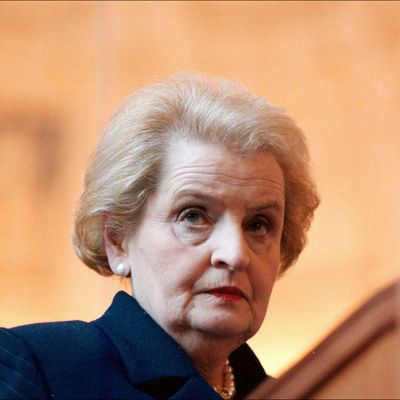 Madeline Albright in Itay in 1997.
Photo: Alberto Pizzoli/© Corbis. All Rights Reserved.
This week, the Cut is talking advice — the good, the bad, the weird, and the pieces of it you really wish you would have taken. Here, former Secretary of State Madeleine Albright on learning to get things done in the United Nations.
Probably every woman you know, certainly every woman I know, has been in meetings where you're the only woman in the room, and you want to make some kind of a comment and you think, Okay, I'm not going to say that, because it sounds stupid. And then some man says it, and everybody thinks it's completely brilliant, and you're really mad at yourself for not having spoken. I had that experience most of my life.
I went up to the U.N. in February 1993, as the ambassador of the United States. Most of the meetings don't take place in that fancy room but in a room farther back. They're kind of informal. I get in there, and I see there are 15 members of the Security Council, and I'm the only woman. Fourteen men from all different parts of the world are sitting there looking at me and I think to myself, Okay, so, I'll just see who's who, and if they like me, and what the mood of the room is. And all of a sudden I look and I see this sign in front of me that says, "United States." I thought to myself, If I don't speak today, then the voice of the United States will not be heard. So I spoke.
I'm not a shrink, I'm an observer, and I have my own life to judge by, but I think there is a sense about women that we want to be liked. We want to be accepted. We want to know who the other people are in the room, and what it is they think. Was I the first person to speak in that meeting? No. But I persuaded myself that I had to do it. I can't remember what I spoke about, but mostly we talked an awful lot about Iraq, what was going on in Bosnia, issues in Haiti. There are those who will perceive that you're [a bitch]. But you have to interrupt. At a certain stage you realize that it doesn't matter what they call you. You have to overcome your personal qualms.
When I started teaching at Georgetown, it had been a single-sex school that went co-ed and they wanted to have women professors as role models. And I said to my students, especially the women, that they had to learn to interrupt. The guys are really good at it. I do think that women are more polite and I think, without the gross generalizations, men are much more willing to talk and women are very careful. So the combination of being raised to be polite, listen to other people's ideas, and then this kind of lack of security, "Is this something I'm competent to discuss?" …  we question ourselves much more than men.
But if you're going to interrupt, you have to know what you're talking about. And you have to do it in a strong voice. My classes are a bit of a zoo because I tell people, men and women, not to raise their hands, to interrupt. But I do think it's a lesson. And it was a lesson even to myself, having preached about this, to then be in a position on the Security Council where I kind of questioned, "Shouldn't I just wait and not talk initially?" But if you raise your hand, and you don't get called on, by the time you do, what you had to say doesn't make sense anymore. It's not germane. So I made up this term, active listening — you listen differently if you think you're going to interrupt. Because, frankly, there are some people who talk too much. What the men do in a meeting is kind of say, "Well, as Joe said …" And they support the fact that that guy made a comment. If you're the only woman in the room, you have nobody to do that with you. So it's important to have more than one woman in the room, so that in fact you can say, "As Jennifer said …" Now, that presumes that we agree with each other, but the bottom line is, at least if there's more than one woman in the room, you're going to be able to have that.
It's not as if you have to speak all the time, or every time, but you do have to accomplish what you're supposed to be accomplishing in the meeting. And you have to make a judgment about the best time to speak. I've said this many times — there's plenty of room in the world for mediocre men, but there is no room for mediocre women. You have to work. You have to work exceptionally hard, and you have to know what you're talking about. Otherwise, you're just interrupting for the sake of interrupting, which I'm not in favor of.
One of the issues that I cared deeply about was whether we would use force in Kosovo. Having been ambassador at the U.N. when we were doing Bosnia and thinking that we had waited too long to do something, I thought that when I was secretary of State, that I needed to make sure the ethnic cleansing had to stop. But the secretary of State has no airplanes. The issue was how to persuade the Pentagon, and so there were some pretty tough meetings in terms of how to use force. It wasn't easy, not only because I was a woman, but a civilian. In end, I actually won the issue about using force, the air war, only because that's what President Clinton wanted to do.
When I was ambassador at the U.N., Colin Powell was chairman of the Joint Chiefs, and we're very good friends, by the way. At the U.N., I saw more foreign diplomats than anybody else, and they would come up to me and they would say, "Why isn't the U.S. doing something about Bosnia?" So when we were in our Situation Room, having meetings about Bosnia, I kept arguing with General Powell. He wrote in his book that when I suggested that we use American forces in Bosnia, he had to patiently explain to me that our soldiers were not toy soldiers. And I felt really put down. So when his book came out, I called him up and I said, "Colin, patiently?" And he said, "Yes. Patiently. You understood nothing." He sent me his book, in which he wrote, "With love, admiration, etc. Patiently, Colin." And I sent him back a note saying, "With love, admiration, etc. Forcefully, Madeleine."