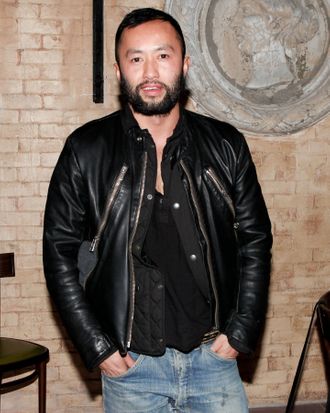 Photo: Aria Isadora / BFA NYC/BFA NYC
It sounds like J.Crew is undergoing a bit of a shakeup: After the company reported woeful, possibly sweater-related results last week, some (in corporate parlance) re-shuffling has taken place. According to a release from the company, Somsack Sikhounmuong, formerly head of design at Madewell, will now take over as head of women's design for the J.Crew brand, replacing Tom Mora. Sikhounmuong is a 14-year veteran of Madewell, and has helped contribute to the success of the company, which has seen sales rise by 33 percent in the past year. Will he be able to sprinkle that same fairy dust on J.Crew?
Joyce Lee, who has been working under Sikhounmuong at Madewell, has already been named as his successor there. The release also makes reference to "other strategic and organizational changes … being made across the Company in areas including store operations, production, sourcing, and merchandising." CEO Mickey Drexler, who has been upfront about what he called the retailer's "lousy year," said in the statement: "We know what needs to be done and while many of these initiatives take time, we have a committed team in place to make it happen." They certainly have their work cut out for them.