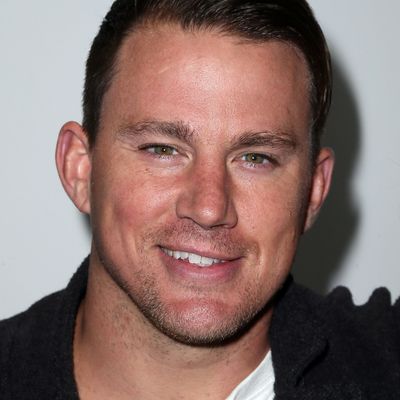 Photo: David Livingston/Getty Images
One of the most time-honored traditions of adolescence is begging your parents to see movies you're in no way old enough to see. (What was the first steamy movie you saw behind your parents' back?) And professional heartthrob and Diane Keaton's would-be trophy husband Channing Tatum has no illusions about it. He knows that when his 2-year-old daughter Everly (with wife Jenna Dewan-Tatum) grows up, she's going to want to see a few films. But would she want to watch her dear ol' weird dad bump and grind to Ginuwine?
"I know that I'm not going to win any dad of the year awards, or dad of the lifetime," Tatum told People magazine about the inevitability of Everly coming across his stripper past. But he's optimistic about it: "It's gonna be fine. I can't change the fact that I did this in real life, and this is my way to sort of, I guess, tell it in my way and give it a little bit of understanding. She's gonna see it, there's no way I can ever shield her from it. I think we teach way better via our behavior and our experiences rather than our words."
Here's hoping she doesn't post a Father's Day Instagram shout-out with a still from the movie 16 years from now.