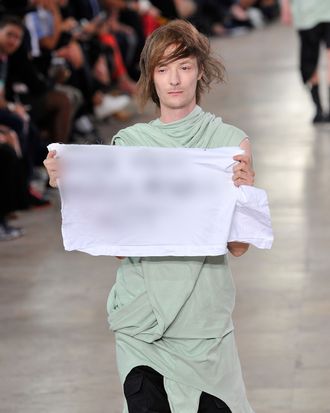 Rick Owens spring 2016. This image has been blurred at the request of the designer.
Photo: Kristy Sparow/Getty Images
Male models going rogue, assassination threats, punching — it all sounds like a scene out of the upcoming Zoolander 2, but it's just the latest from Paris men's fashion week. After the model Jera, who walked in Rick Owens's show today, unfurled a banner that read, "Please Kill Angela Merkel" (a statement followed up by "Not"), the designer took action. "It's a crazy, rogue, f—-ing model that I punched when he came back out," Owens told Women's Wear Daily after the show. "Please say that I punched him."
Owens later released a statement stating in full,
Rick Owens does not claim responsibility for the act of protest by a model at the Spring Summer 2016 show.
This was an independent statement and does not reflect the opinion of the house of Rick Owens.
We kindly request that all media omit or blur this image in the press.
It would seem that up until this point, Owens and Jera had a close relationship — the designer is pictured shaving the model's eyebrows on his Tumblr, and Owens told Dazed and Confused, "He's been my male muse for the past twelve years or something." Sounds like he won't be making any repeat appearances, though.