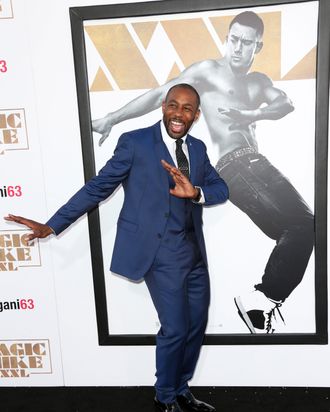 tWitch.
Photo: Frederick M. Brown/Getty Images
With the summer's arrival of Magic Mike XXL came the reminder of questions we had when the first film became a raging success, like, "What does a gentleman say to a lady before he shakes his moneymaker in her face?" We talked to professional dancer and "So You Think You Can Dance?" sensation Stephen "tWitch" Boss about how he approached stripper etiquette as one of the XXL newbies. He said, "It's a lot of apologies, I'm not gonna lie. I've never really had conversations with women that started [with], 'Listen, I'm sorry, but I'm gonna put your hand on my balls and I'm gonna start to shake and you're just gonna have to keep it there. Ya know what I mean? I'm sorry. I'm gonna do it a lot and it might get hot and it might get sweaty but just stay with me.'"
What about Boss's wife, Allison Holker? What was her take on her handsome husband's delicate conversations with his XXL scene partners? Boss playfully replied, "She don't know about that. We'll keep that on the hush."
Magic Mike XXL is back on the grind July 1 at a theater near you.