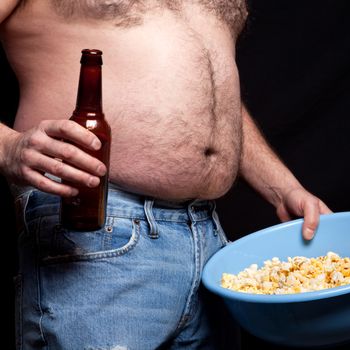 Photo: Sharon Dominick/Getty Images
It takes a lot to make a dadbod: cold pizza for breakfast, foot-long Subway sandwiches, touch football, week-long marathons of P90X, always getting a turkey leg at Thanksgiving, intensely chill games of miniature golf. But of all those important component parts, the most important might be beer.
Therein, CJ Cardenas saw a market opportunity. The Los Angeles–based talent manager for the television adventurer Bear Grylls applied last week for a trademark on the term and has been talking with microbreweries about the possibility of putting out a dadbod beer. "They love the concept," he told me. "The possibilities are open at this point. I just applied for the trademark, so we're in the beginning stages of the process."
But he sees the brand potential as huge. "Dadbod is a lifestyle," he said.
Like so many of us, Cardenas got introduced to the concept of the dadbod a month ago. It struck him as a fun term, but also a surprisingly profound one: "The idea is that it is OK to have a little bit of extra fat in certain areas," he said. "Living in Los Angeles, in West Hollywood, you see so much focus on physical training and a perfect physique," he said. "But to a lot of girls, it's not that it is intimidating, but it just doesn't seem real. And there's a hunger to be with someone real." And many men could use a nudge to love their dadbods just as they are too, he said. "Men have body-image issues that people don't talk about."
Brand Dadbod, then, would exude acceptance and fun. "There's a misconception that dadbods are lazy, eating pizza, playing video games," he said. "That's not it at all. A lot of men who fit in the category are active guys with families." Dads who enjoy a beer on the weekend. Dads who hit the gym a few times a week. Dads with friends, colleagues, and kids. Dads, in other words, with bodies shaped by their full, fulfilling lives.
You can catch a glimpse of how Brand Dadbod might capture the vibe on a glory-be Instagram feed that Cardenas set up. You can also see the brand ethos in Cardenas and Grylls's current project, NBC's The Island, a reality series that follows 14 normal guys stranded on a deserted isle for a month. "It's the ultimate dadbod experiment. We don't care what you look like. We don't need models," he said. "It's an island filled with dadbods!"
Grylls, who is definitely not a dadbod, hosts the program. "He trains very hard," Cardenas said. But Cardenas himself? "Oh, I'm a dadbod."