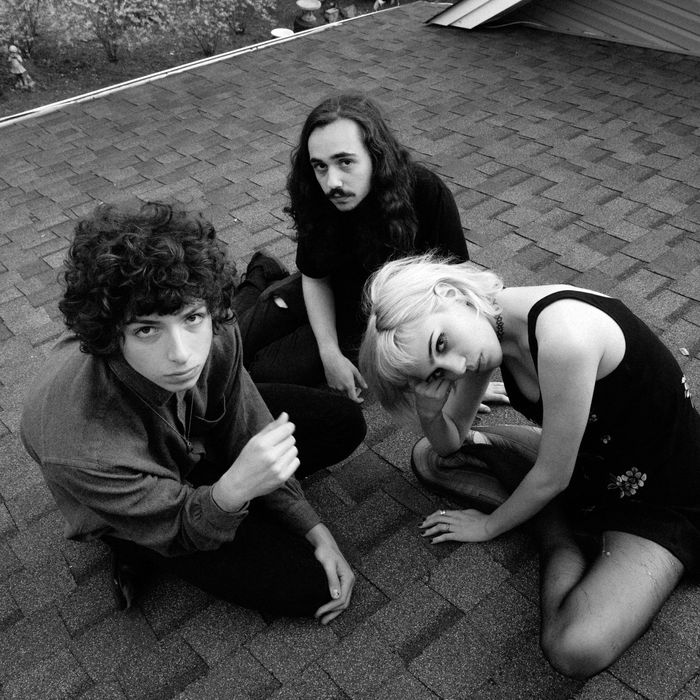 Photo: Mia Della Ragione/Courtesy of the band
The teenage rock scene has gotten a lot grungier and a bit more glam these days thanks to Brooklyn trio Sunflower Bean. The '70s-influenced band — comprised of Yves Saint Laurent model Julia Cumming, Nick Kivlen, and Jacob Farber — released their debut EP Show Me Your Seven Secrets in January following the success of their first singles "Rock & Roll Heathen" and "Tame Impala." Hailing from New York City, the band's front woman, Cumming, stands out as an energetic presence onstage (possibly due to her love for sipping her "good-luck charm," Red Bull, before performances). Playing a dual role as both a model and musician, the 19-year-old starred in YSL's spring ad campaign while also playing shows in the NYC area. Up next for the band — a seven-inch release including singles "I Hear Voices" and "The Stalker" via Fat Possum due July 24.
We spoke to Julia Cumming while she was at band practice on Long Island in Jacob's family basement about her preshow rituals, modeling for YSL, and how she gets her bleach-blonde pixie.
How did you meet Hedi Slimane and get involved in YSL?
[Yves] Saint Laurent reached out to the band because of the work they do with musicians. It all kind of spiraled from there!
You're both a model and a musician, how do the two jobs compare?
Growing up, I never expected I would model. Who can expect that, you know? Because of playing music — since I was pretty young — I would always do photo shoots and stuff, too, so that kind of introduced me to the industry. It's very different. The music Nick, Jacob, and I make together is completely what we want to be doing. Rock and roll to me is about not being afraid to be ugly. But with fashion, the interesting part can be the team you're working with, you know? The combination of the concept, the photographer, the location, the clothing … it's how everyone works together. The art of it is in the group, not one person, or in this case, myself.
Since the band has become more well-known, do you get recognized more in the public eye as a model or a musician?
I'm not sure. I think [so], with Sunflower Bean. I'm definitely not walking through the streets hiding from the paparazzi. Some people have been like, "Hey, are you the girl in that band?" I'll be like, "Yeah, I'm the girl from that band."
How do you guys fit into the DIY Brooklyn grunge scene?
We've all been going to shows since we were 15 or 16 years old. When we started, we had a ton of friends making music, and sometimes it was easier for us to jump in. I don't think there are a lot of bands making the music we're making right now. I think it's okay. I think this scene is pretty supportive of different sounds and genres. DIY isn't necessarily about one sound. I think we fit in just fine, but [with the name] Sunflower Bean you can't be sure what the music is going to sound like. The name can kind of sound dream-poppy. When people hear it, they're kind of surprised because it's a pretty heavy sound, especially live. I think it's just kind of unexpected.
Do you have any weird preshow rituals before performing as Sunflower Bean?
Making sure that Jacob and I have Red Bull. That's a thing that we're kind of having a relationship with right now. During CMJ, when we played eight shows, it kind of became our crutch. Now I'm afraid of what I'll be like without it.
Do you think girls in bands should dress more or less provocatively? Do you ever feel like you don't want to be portrayed a certain way?
I don't know how to answer that question. I think that women are people and they should dress however they want. It depends on the day, and it depends on the moment. As women's history in music and involvement is very complicated, I feel like everyone is trying to carry you down as a woman in music and find something that makes you less of a musician. If you dress provocatively, they say you're a slut. If you don't, people want you to be demure, so they don't take you seriously and you don't turn them and then they won't think you're a real musician. I think there's almost no point in talking about it so much anymore because the more we talk about it, the more women are separated, rather than just human beings. We've been different for so long, so it's just been really hard. I don't think it really matters — it's just who you are and what you want to be. If you stand behind what you're doing, then that's that. If you really practice your instrument, work on writing good songs, and back yourself up, you're doing everything right. You don't have to be something because a guy tells you you should or the world tells you you should.
Do you wear YSL?
When I can! For special occasions. I think the hats are pretty great. Hats were my favorite part of the spring collection. It's kind of hard to find the right one, and theirs were really beautiful.
What's your recipe for the perfect bleach-blonde pixie cut?
My hair is naturally brown and life as a blonde is so much more fun. I don't know if I'd ever want to go back! Really, I think my life has significantly improved being blonde. I get my hair done at a salon called Pixnor in Bushwick. They're just hair masters. I say, leave it to the professionals … or don't. It'll be fine no matter what. If you have a pixie cut, you just gotta own it. There's nothing else you can do. You just gotta rock it.