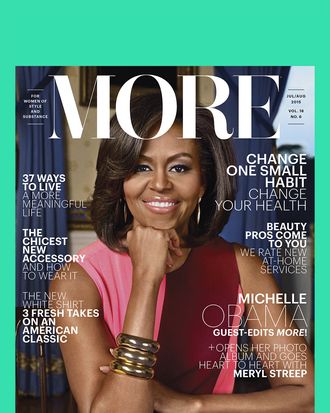 The July/August Issue of More Magazine.
Photo: David Slijper/More
Michelle Obama makes an impressive editorial debut in the new issue of More magazine, which includes an interview with Meryl Streep, an essay by Chimamanda Ngozi Adichie, and MObama's own "chill-out" playlist. The First Lady served as guest editor for the July/August issue, which hits newsstands next week, and took her conversation with Streep as occasion to discuss the ways that society and the media continue to undermine strong women.
Noting that women today have more choices about how to live their lives than ever before, Obama says, "Sometimes, we, as women, are critical of each other's choices. Should I have a career? What if I want to say home and raise my kids? And what if I don't want power?" Arguing against a rigid, stereotyped definition of what makes someone a "strong woman," she explained: "I encounter this because there are people who ask me all the time, 'Are you going to run for office?' And many of them ask because I'm perceived as a strong woman, and [another] strong First Lady, Hillary Clinton, is in fact running for office." And, in fact, not all strong women are the same, or want the same things, or want to be president. "We're all different people with different aspirations and goals," she concluded.