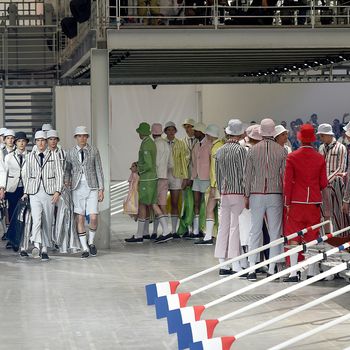 Photo: Catwalking.com/Getty Images
Thom Browne, as has been previously proven, can be quite the impresario when it comes to the runway. His Organization Man–themed installation at Pitti Uomo and this past season's meditation on death, complete with model "surgeons," are just some of his hits as a showman. For his Moncler Gamme Bleu show in Milan yesterday, the designer opted for a riff on a preppy pastime — crew. His nattily attired rowers circumnavigated two model ships that were placed on the runway, complete with oars.
Dressed in matching uniforms — white polos, blue shorts, knee socks — they reached into the contents of their shoulder bags and changed into each look, for a total of about 160 different looks over the course of a ten-minute défilé. Now that's what we call showmanship.