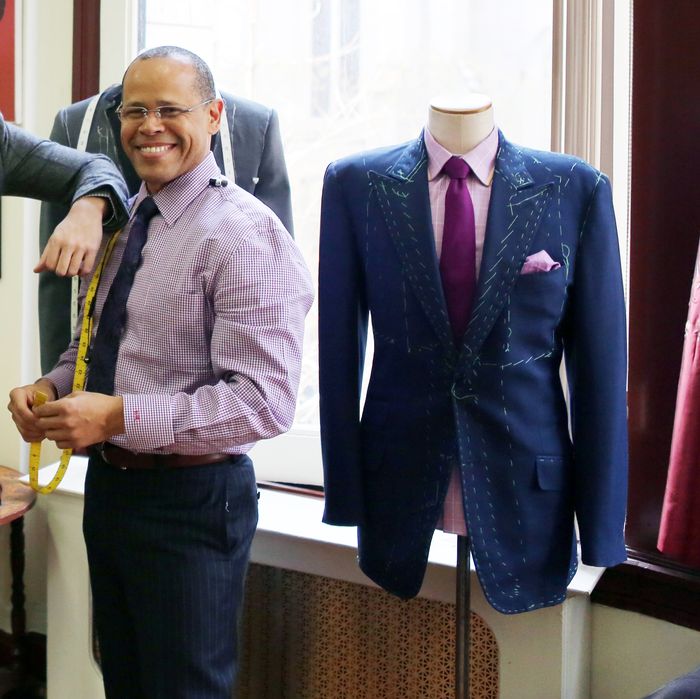 Two weeks ago, my wife came home excited about a dress she'd just picked up at a Maria Cornejo sample sale. Because part of being a good husband means being honest even when it's difficult, I told her that the dress was interesting. It resembled an elegant wizard cloak, with long sleeves that opened to the size of dinner plates and an overlapping closure that snapped in the front, like a sporty bathrobe. The fabric, a slubby black silk-and-linen knit with ivory streaks, would have looked better on a settee. It didn't fit.
"What are you going to do with it," I asked, hoping that the answer wouldn't be "Wear it."
"Bring it to Wilfred," she said cheerfully, with all the confidence in the world. Wilfred, our tailor, had saved many wardrobe disasters in the past, but this one seemed like a stretch even for his expertise.
My first encounter with Wilfred involved an overly structured jacket with a chest-plate-like body armor that I wanted removed. Two tailors, both decently reviewed on Yelp, had already turned me away, saying it would cost too much and never look right. It was like conducting open-heart surgery on a very flat animal. Editors I knew from GQ, Details, and Esquire all recommended Wilfred. He's expensive, they all said, but he's the guy. Calm, patient, thoughtful, Wilfred told me it would be no problem. When he was finished the jacket fit me perfectly and I knew I'd found a kindred soul.
I have an obsessive-compulsive relationship with "fit" — inseams a quarter inch too long or too short, or a cuff that doesn't hit the right part of my wrist, are enough to render something unwearable. But, because it's 2015, and I shop online more recklessly than I should, my habits required frequent trips to Wilfred. But if I'm honest, I actually looked forward to seeing him. I relied on his talent. I was in awe of his perfectionism.
On May 25, Memorial Day, just a few days after my wife brought him the dress to be altered, Wilfred died, unexpectedly, of a stroke. He was just 53 years old.
Born in the Dominican Republic, Wilfredo Rosario honed his touch in Puerto Rico, where he and his mother moved and his brother, a tailor, began training him. When he arrived in Borough Park, Brooklyn, 30 years ago, Wilfred began apprenticing under an Italian tailor by the name of Luigi Guido, and attended FIT for a time before opening his own shop in 1992.
At work, Wilfred moved slowly. Not that he was sluggish, just unhurried, with the deliberate, elegant biomechanics of a retired professional baseball player. He spoke carefully, with a thick, low accent. He took his time before getting down on the floor to pin a hem. Visits to Wilfred weren't always full of laughs, but his immense charm rubbed off. Sometimes he would stop to joke about borrowing a jacket he liked to wear out before I'd return to pick it up.
His daughter Cynthia told me how much Wilfred loved music. He'd play his grand piano in his tiny Sunset Park apartment until the neighbors thumped the floors to shut him up — an image I especially love because of how composed Wilfred appeared in his shop. His favorite band was, improbably, Rush.
There's no shortage of tailors in New York. But increasingly rare are those with Wilfred's combination of artistry and integrity. His priority was, above all else, to make sure you felt 100 percent confident in your clothes. The rest, for Wilfred, would fall into place. Once, a customer came in to have his wedding suit fitted and Wilfred wound up narrowing his tie as well because it didn't go with the new lapels — saving him a lifetime of less-than-stylish wedding photos.
Losing a tailor is nothing compared to losing a father, brother, or son, but it's not an overstatement to say that losing him will impact not just my wardrobe, but my life. Wilfred was a sartorial therapist — better than most shrinks. I didn't have to say anything, but he could look in the mirror and know exactly what was wrong and how to fix it. I'll find a new tailor, but I'll never be able to replace him.
Earlier this week, my wife went back to pick up the Cornejo dress and drop off a couple of recent Yoox purchases in need of reconstruction. That's when we learned that Wilfred had passed and the fate of the shop was unknown. He must have finished the job before Memorial Day weekend because it was ready. At home, she put it on and suddenly the dress made sense. It was like she had had it on backward the first time. The wrapped front flattered her figure and the drape on the sleeves felt sophisticated. She looked fantastic and she knew it. Wilfred knew it, too.