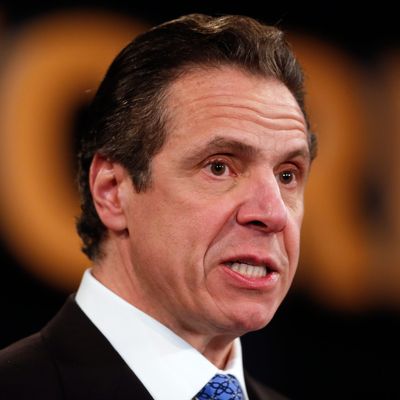 Andrew Cuomo.
Photo: Mike Groll/AP/Corbis
They waited until the clock almost struck midnight and their Jos. A Banks suits turned back into rags, but on Tuesday New York State's lawmakers reached a deal on a campus-sexual-assault bill that hinges on a statewide standard for affirmative consent. The bill, proposed by Governor Cuomo and backed by Lady Gaga, would legally define consent as a "knowing, voluntary and mutual decision among all participants to engage in sexual activity."
Though it has yet to officially be signed into law, the proposed bill would broaden the campus-sexual-assault standards put in place last year at SUNY to include all public and private universities in New York State. Campuses would also be required to distribute a student "bill of rights" that informs them of their reporting rights in the aftermath of a sexual assault.
The bill would also allocate $10 million from the state budget to be used to combat sexual assault on campus, a portion of which would be used to develop a new unit within the New York State police dedicated especially to handling these cases.
Cuomo and friends are hoping this bill will serve as a national model for how to legally protect students against sexual assault. Your move, everybody but California.