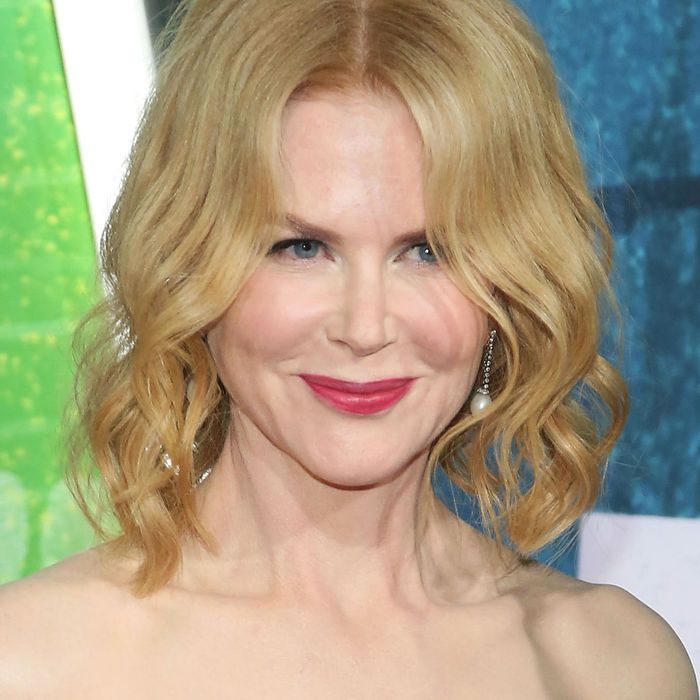 Photo: Taylor Hill/Getty Images
Every year, Women in Film's Crystal + Lucy Awards dinner is a platform for rallying speeches from women in Hollywood. At last night's event in L.A., Nicole Kidman gave a particularly good one, as she accepted the award for Excellence in Film.
She recalled how, as a five-eleven teenager, she was a "living metaphor for what had always held women back." She said:
I was afraid of my own power, afraid that it would threaten people, intimidate people. And it's a great sadness wishing to be less than you actually are. And it's hard to take on the world when you're constantly in a battle with yourself. I worked through it … I'm working through it.
Kidman went on to explain how fearing her own power led her to turn down a role in a Jane Campion film, because she was required to kiss a girl onscreen and she "wanted to be the kind of actress that had long, flowing hair and kissed boys." The decision to avoid work that "threatened," she said, was the beginning of a long process of learning how to reject the industry's expectations and honor her power as a woman. After listing all the women who have helped her along the way, Kidman ended her speech with this:
Women are too susceptible to the voice that tells us we need to be accepted … Men say, "I want this." And then they set out to do it. Women say: "Do I want this? Don't I want this? Do I deserve this? Can I get this? Hmm, what do you think?" And framing things this way leads women to second-guess our decisions, to ignore our own confidence, to revert to a place that we think is safe, acceptable … I don't regret much. I try not to live that way, but the regrets that I do have, all go back to the decisions that I've made out of fear. Not a fear of my own weakness, but of my own power.

I stand here today well-aware that somewhere out there a girl of 13 or 14 years old will hear these words. Let's pledge again today to be there for that girl, to support her, artistically, emotionally, financially. Let us create opportunities for her and teach her to imagine her voices trying so hard every day to call her back. Show her that she is strong and smart and talented. That she deserves a shot at every part that might interested her and at equal pay, too. Let us prove to her that she should go forth without shame. In short, let's do what Jane Campion did. There's quicksand in your hands. Who knows what kind of stories we're going to get from that? … To hide behind our own fears, to shrink, to listen to that little carping voice on our shoulder, instead of the truth, which is pounding the fence. My friends, failure isn't shameful, but cowardice is. So let's take risks. Let's raise our voices, honor the fire within, ignore our fears. In short, let's stand tall and never, ever apologize for it.
In summation, Nicole Kidman wants us all to master the art of DGAF.