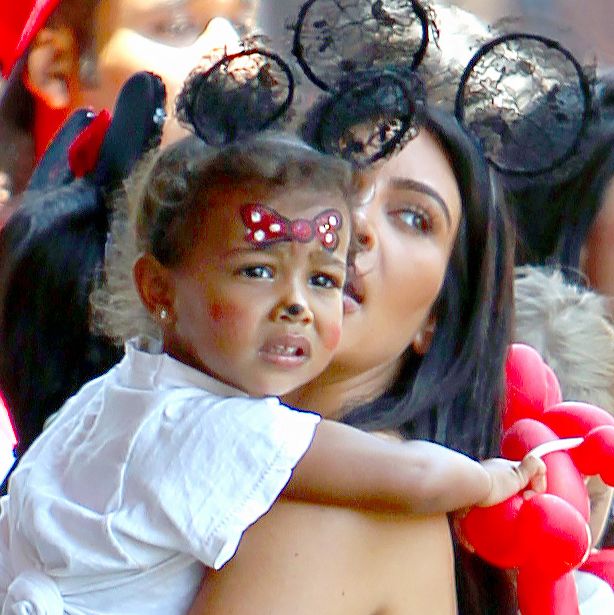 Photo: Splash News/Corbis
North West, the firstborn child of Kanye West and Kim Kardashian West, celebrated her birthday yesterday. In a previous year (the only year with which to compare birthday festivities for Nori), her parents went all out and staged a personal Kidchella festival, which she might or might not remember.
Sure, at 2, it's possible Nori isn't old enough to imprint memories into her little mind, but that's what social media is for! Now she can look back and remember that day her parents were just two average Southern California citizens, using a combination of the Disney FastPass system and security guards to bypass lines and get to what really matters: $7 Mickey Mouse–shaped churros.
North, a noted Minnie Mouse enthusiast, must have been pleased.
The Wests did not, as reported, shut down Disneyland for a private run of the park, but rather let other families, tourists, princesses, and face-painted mice share in the joy of their daughter's second birthday.
There was, however, a private party area complete with Nori-centric balloons. Think of it as Disneyland's equivalent of the roped-off VIP lounge at the club.
Rather than choose from her collection of towering stilettos, Kim went incognito as a practical Disneyland mom in workoutwear — even if for her, workout clothes are all-black, and feature $1,435 Givenchy leggings and Air Yeezys.
As for the birthday girl herself, she was on trend for the summer in jorts, slip-on white sneakers, a Mickey Mouse T-shirt tied at her waist, and lace mouse ears. (You can buy your own on Etsy.) North's friends also got the memo about the casual dress code.
Kanye even fulfilled his duties as an uncle by helping with Penelope Disick. (Can you imagine calling Kanye your uncle? Uncle Kanye is probably a cool uncle.)
"You mean the wait for the Toontown roller coaster is how long?!"
(The only tyga — or tiger — we recognize.)
Of course, your birthday is null and void if those closest to you don't wish you a happy birthday on various social-media platforms. It is not known if this very special toddler can read, but her mother dutifully chronicled the anniversary of her birth anyway, adding that chasing children around Disneyland all day was "busy" and probably exhausting.
Though it was way beyond a toddler's bedtime, the entire party stuck around to see fireworks at Cinderella's castle. Because at Disneyland, everyone is a little Insta-basic. Even the Kardashians.