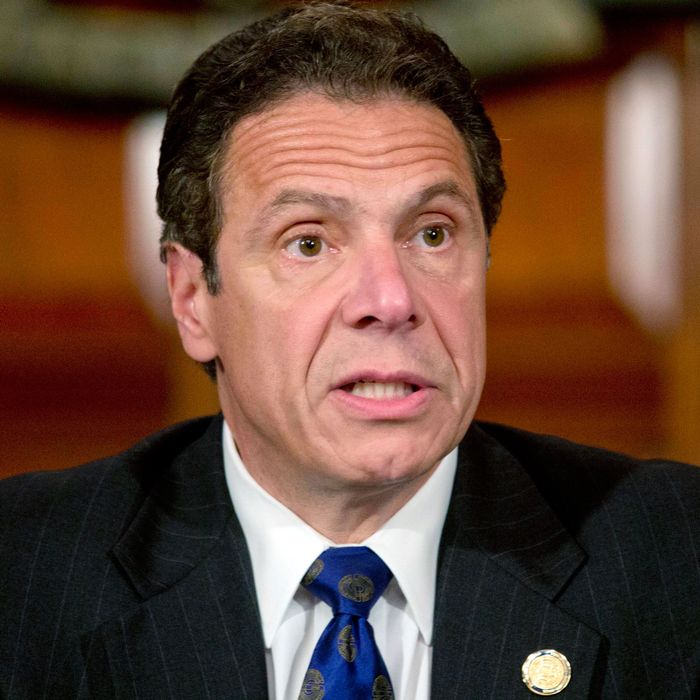 Andrew Cuomo.
Photo: Mike Groll/Corbis
Though it may have generated the most buzz, Governor Cuomo's new sexual assault bill was not the only legislative gain for New York women's rights to come out of this year's session in Albany. Capital New York points out that New York lawmakers also passed nine out of ten bills in the Women's Equality Act — a significant advance for gender equality in the state, and, strangely, one that no one seems to be talking about.
Cuomo first introduced the package back in January 2013, and after failing to pass it, made it a keystone of his 2014 re-election campaign. The 10-point legislative plan is impressive in scope: It includes strengthening equal pay laws, outlawing discrimination against parents and pregnant women in the workplace, increasing protections for victims of domestic violence, strengthening laws against human trafficking, and safeguarding reproductive health by codifying Roe v. Wade into New York State law.
It's this last component of the bill — the abortion plank — which proved to be a sticking point with Senate republicans. Supporters point out that the existing New York abortion law, which decriminalized the procedure, dates back to 1970 — three years before the Supreme Court decision on Roe v. Wade. Most important, the current law does not protect the woman's health if serious complications develop late in pregnancy; legally, the woman is only protected if her life is deemed to be in danger.
The proposed abortion bill included in the Women's Equality Act would ensure that women can get an abortion up to 24 weeks into their pregnancy, or when necessary to protect their life or health, and would also protect physicians who offer abortions within the scope of their practice from being criminally prosecuted. Though Cuomo asserted that the language of the bill "in no way expands abortion rights but only codifies federal law," he ultimately agreed to drop the provision from the Women's Equality Act in the face of opposition this March.
Without the abortion bill, the other nine measures of the act passed through the assembly with little opposition. While there are still plenty of other legal measures that would help advance gender equality — paid family leave and raising the minimum wage, to start — we shouldn't ignore these significant legislative gains.