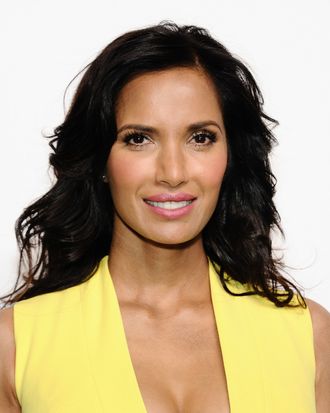 Padma Lakshmi
Photo: D Dipasupil/FilmMagic
Padma Lakshmi began her career as a model, but cooking was just more fun. After she released her first cookbook, Easy Exotic, the Food Network came calling and there, she hosted Padma's Passport before jumping over to Bravo as the face of Top Chef. As she gears up for a new season, Lakshmi talks to the Cut about losing the 15 pounds she gains during each Top Chef season, not washing her face, and using podcasts to stay on the treadmill.
How I start my day: I typically wake up around 7 a.m. Breakfast is usually half a grapefruit, one piece of sourdough toast, an egg, and a cup of black tea with milk and honey. I usually don't stray from that, but sometimes I'll do a fried egg on top of cottage cheese and forgo the toast. I don't like to eat small portions in the morning so I try to find healthy things. After breakfast, I walk my daughter to school and then go straight to the gym.
On food: Right now, I'm filming on Top Chef and I usually gain about ten to 15 pounds every season. It's the only bad part about my job. After I finish filming, I'm going to be much more spartan with my diet. I have a very creative costume person on the show. We actually buy clothes in three different sizes so that you don't notice my clothes getting tight. Everybody tries to squeeze into the size-six jeans or the size-eight dress, but who's looking at the tag to see what number is on it?
I try to lose 15 pounds — they take me six weeks to gain and 12 weeks to lose. In our office, we have something called "Fairy Water." It is just a pitcher of water with whatever is in my spice drawers — star anise, a small pinch of whole cloves, or a handful of dry jasmine blossoms. It's a way to convince people to consume more of it.
How I like to sweat: I either box three times a week or lift weights — just old-school weights, lunges, crunches, squats, and leg-presses. I box with my coach, his name is [Risha] Dell and he meets me three times a week for one hour. I also go to the New York Sports Club in my neighborhood. Sometimes I work out alone and sometimes I work out with a trainer — but there are times when you need the trainer just to push you a little harder. There are also times when I'd rather be alone because it's the only time I have to myself. That becomes very precious to me.
How I eat when I'm alone: I'm more likely to eat beans or lentils and rice with lots of vegetables. On the weekends that my daughter goes to her dad's, I wind up not cooking because it's almost not worth the dishes for just one person. That's when I order out and I'll have the ramen or the pizza or whatever. Sometimes, late at night, I take a plastic spoon and get a big, heaping spoonful of peanut butter.
To me, wellness means: Balance. It really means having a little bit of fun, a little bit of luxurious eating, but then balancing that with healthy eating. It's being conscious of what you're putting in your body and where it comes from, too. It means allowing yourself to splurge and have the occasional food that maybe you don't want to have all the time. I'm always suspicious of someone who says, "I never do this," or "I never do that," no matter what it is, because I feel like that person is probably missing out on something.
How wellness has changed for me: I'm probably a little more easy on myself than I was in years past. When I was younger, I was really conscious of what I ate and mindful of every morsel that went into my mouth. Now I'm concentrating on other things. It's okay if I'm a size bigger, because my intellectual growth is more important to me than the size of my jeans.
My biggest wellness struggle is: I should probably wash my makeup off at night. I just don't wash my face. Often, I'll go to the gym the next morning with the same mascara, eyeliner that I had on the night before. It's a little gross. I do take care of myself. I go and I have a facial every six weeks.
I also struggle with avoiding crunchy, salty things. I have a weakness for potato chips or chewy, toasted cashews or chile-and-lime peanuts. I can leave almost any dessert on the table, but if there's a plate of nachos, I'm dead. Also, I have a deadly quesadilla habit that usually strikes after midnight — never like a fancy quesadilla. It's always the most basic tortilla with shredded cheddar cheese.
My wellness shortcut is: I keep a lot of sauces and chutney sauces in my fridge. I rely on them to take very simple things like a sautéed fish or even toast, and turn it into something spicy or yummy. One of my chutneys has more of a tangy barbecue feel, another is almost like an Asian pesto. Another one that is really thick and tasty I make with kumquats and green chiles. It's easy to make something delicious by throwing a bunch of fat in it, but if you understand how to use spices and condiments to alter the flavor of your food, it doesn't feel like a diet. You can maintain a healthy diet and be well for longer.
My wellness advice is: If you can find joy and make yourself laugh, then that diet and going to the gym is going to be a lot easier. The reason I stay on the treadmill is because I listen to "The Moth" storytelling podcast. You need to find ways to entertain yourself and make it fun. People fail on diets, because they're not fun and about deprivation. But if you can find a way to bring joy into being good, then you'll stay well for longer. It will actually enhance the way you feel, and it's important to feel good.