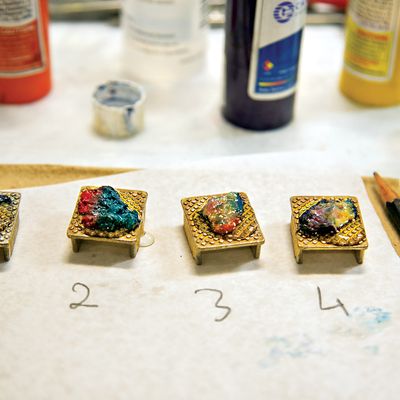 Four stained slices are set on small metal carriersi, each topped wth a glob of goo called optimal-cutting-temperature compound.
Photo: Stephanie Sinclair/Stephanie Sinclair
Most postsurgical tissue samples sent to the pathology lab at Memorial Sloan Kettering go through a close examination that delivers results the next day. But when a patient is on the operating table and a surgeon needs information right away, that won't work. In those cases, the tissue goes down one floor, via pneumatic tube, to MSK's frozen-section lab, where a team snaps to attention within moments of its arrival. The specimens — which would otherwise be dehydrated and embedded in paraffin wax, a process that takes several hours — are dunked into liquid nitrogen and frozen in moments, then sliced ultrathin for viewing under a microscope. The aim is for the pathologist to call the OR with results in half an hour, although complex cases can take a little longer. The one photographed ahead was one of those, conducted on a recent weekday afternoon. (We have obscured a few details to avoid identifying the patient.)
*This article appears in the June 8, 2015 issue of New York Magazine.