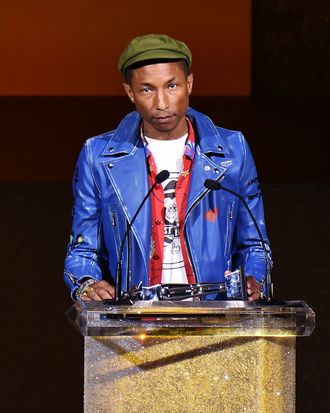 Pharrell Williams.
Photo: Michael Loccisano/Getty Images
Last night, fashion's resident oddball Pharrell Williams showed up to accept the Fashion Icon Award at the CFDAs decked out in faded blue jeans, a newsboy cap, and Chanel belt. "Different is the ultimate asset," he said in his acceptance speech, which included a long-winded account of his wide-ranging inspirations (from Ralph Lauren to Comme des Garçons), a defense of Terry Richardson, and a contrarian conclusion: "I am not a style icon. I'm just inspired. I am other, and I'm okay with that. Someone's got to do it." Below, the highlights from his speech.
On the importance of daydreaming:
Since I was a little boy, I lived in my head. There were no rules, just a dreamland. "What if" land. It's the first step when you don't have the means. The second step comes naturally: It's when someone encourages you for being different. They also free you from the ubiquitous matrix of opinions.
On not fitting in as a kid:
I didn't fit in because my lovely and incredible parents could not afford for me to. I had to get used to sticking out, and that's how I learned to defend myself from people who would often ridicule my differences. It hurt a lot, but as time went on, I realized I didn't want to be part of the camouflage.
On DIY style:
Jordans are incredible, but they were out of my price range. Vans and Chuck Taylors were affordable, and most importantly, they were the perfect canvas for do-it-yourself. DIY got me through high school.
On Terry Richardson:
Around the time, Tom Ford, famous guy, was still at Gucci, I bought a caramel-colored leather biker jacket because it reminded me of Star Wars … I wore that jacket for N*E*R*D's first album packaging shoot, shot by the barely known at the time but talented Terry Richardson. With my clothes on. He's genius, I'm sorry.
On Comme des Garçons:
The first time I was introduced to Comme des Garçons, I went raving about it to my big sister, who ironically worked with them through her agency, House and Holme. The next thing I knew she got me that jacket, and when I went to the shop, it happened again — I lost my mind by the genius and freedom. Rei Kawakubo designed free and untethered by the matrix of trends. 
On American style:
No one has better style than the American people. Why? Because they're the real thing, they live it every day. I could never be as cool as them, but I'm happy to take notice.