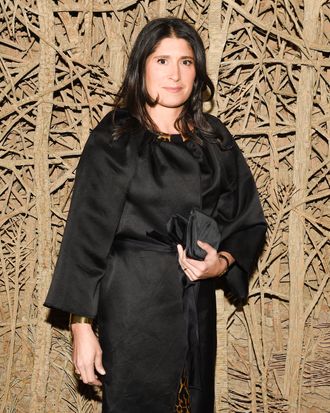 Pilar Guzman.
Photo: Neil Rasmus/BFAnyc.com/BFA NYC
This week, the Cut is talking advice — the good, the bad, the weird, and the pieces of it you really wish you would have taken.
When people talk about having "good taste," it's usually characterized as an elusive, hard-to-put-a-finger-on quality: According to conventional wisdom, you either have it or you don't. Yet taste is surely something you can cultivate and hone  — but how? These were the questions on our minds while speaking with Condé Nast Traveler editor-in-chief (and #BlogHer15: Experts Among Us Advisory Board member) Pilar Guzmán, a woman who has firmly established herself as — and built a career around being — someone with exceptional taste. 
Working her way up at magazines like Martha Stewart Living, Real Simple, and the now-defunct Cookie, Guzman developed a masterful understanding of "aspirational" as a concept. Glimpsing the lifestyle she's built for herself, it's hard not to feel a little (or a lot) envious, from her choice of vacation destinations and restaurants to her apartment décor and lusciously curated Instagram. She spoke with the Cut about ways to develop your own taste, the value of going outside your comfort zone, and why you should make 15-minute visits to museums.
People think of you as someone with really good taste. How do you think you developed it?
Oh, golly. That's a funny question. I was lucky enough to trail my father, who started out as an art director and a production designer. He was always going to flea markets and he did a lot of antiquing and swap meets. We waded through everything from bins in junk stores to high-end antique stores all over the world. He was a lover of design and antiques and fashion and graphic design and art, and finding the diamond in the rough at the junk store. I think I really got an education from trailing him my whole life.
What kinds of things can people do to cultivate and hone their own taste?
It's a hard question to answer, but I think it's about being curious. It's about being open to different influences: vintage, new, digital, print, movies, music, all of that kind of stuff. When you're young, it's about observing. It's about having well-rounded mentors — people whom you look to for cues. Some of it is studying. It's not about money, it's about having an eye.
So much of it is about seeing things. Seeing movies and art, and reading — all of those things feed a sensibility. It's about being a holistic person. It's not just about someone who dresses great or has a cute apartment. What makes a great experience is usually not about money — it's about a feeling. You go to a friend's house and they have a table set up outside, and it's a vintage tablecloth and chipped plates, but it's about creating a mood. To me, that defines taste. It's about putting two unlikely flowers together in an old vase, or the right cute thrift-shop vessel.
Your career trajectory has been especially varied. How do you know when it's time to move on from a job?
It's about making sure that you are continuing to learn. Sometimes people wait to be told what to do. But even the best mentors are so busy that they are not always thinking about what's best for you. I'm always sort of mindful of how people are growing, but what goes on in one's head is not always transparent to one's boss. You have to be your own advocate, or be willing to wave your arms and say, "I'll take on more in my own time," rather than waiting to be tapped for the next move. I think without being obnoxious and presumptuous and entitled, you can say, "I'm ready for more," if you feel that you are. The next move really depends on you.
What have you learned about the qualities that make a good boss?
I think management is really about paying attention to what people are good at, and what they are passionate about, because they will always give their best work when they're passionate about something. I think that playing to people's strengths, and allowing them to defy their own stereotypes, or even your stereotypes of them, and allowing them to grow in unexpected ways, is always good. Historically, I have put writers on beats that are not their normal beats, and if they're interested in it, I think they'll attack it in a way that the beat editor wouldn't. You don't want people to get so comfortable that they stop being creative, or challenging themselves.
What advice do you find yourself giving most often?
I beat myself up in my early years for not sticking to what I thought was the right path. I hopscotched and did a bunch of things that were sort of unconventional, and I didn't know that they would end up leading anywhere. I think while you're young, and before you have children and other people's health insurance to think about, you should try different things and have adventures. It sounds like such a cliché, but I do think it's the time to expand your mind. Pop into a gallery or a museum even if it's only for five minutes. This is advice I even give myself. I have memberships to all the big museums, and my new thing is that I literally go for 15 minutes. Like, if I have a gap between meetings, I'll go for five minutes and look at the permanent collections, just so the eyes see something new. Give yourself permission to not have everything be such an event — otherwise, you won't have gotten to the Basquiat exhibit, or whatever it is.
I also think reading outside of your industry is so, so important. Read about business even if you're a culture or arts writer. I feel like I didn't read enough about business in the younger part of my life. And to not self-stereotype, like, "Oh, I'm more of an English, history person." I think we're trained to hone and perfect the things that we're already good at, but the truth is, you can still be aware and fluent in other things. Everybody needs to be a little more Renaissance, you know?