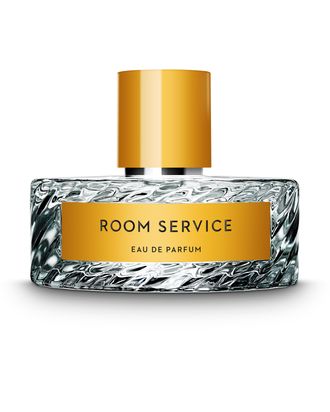 Room Service by Vilhelm Parfumerie.
My desk is messy enough to send Marie Kondo reeling in defeat, so when I couldn't find a press release for a vaguely labeled lab-sample fragrance among the clutter, it wasn't exactly a surprise. Marked only by the fragrance's name, Room Service, the mystery scent hinged on a fruit-jam-y opening note that was eventually cut by floral and slightly peppery elements. It was powdery, too, but in a way that reminded me of slept-in sheets instead of Grandma's perfume. It smelled old-school, but not old: a nod to vintage glamour. I just had to find out more. Because the fragrance plopped on my desk before it landed in stores, Google searches to determine the maker of the perfume proved pointless — until last month, when I learned that Room Service was the brainchild of designer tuned perfumer Jan Ahlgren, and part of the debut collection for his new brand, Vilhelm. Jan says that the scent was inspired by a confident Greta Garbo and an imagined scenario with the actress wallowing in a rose-petal bath. Room Service, surprisingly, is rose-petal-free, and relies on violets and pink orchids instead. In the base there are amber and musk notes (which prevent the scent from drifting into oppressive floral territory) that make the fragrance contemporary. It's what I like to wear when I want to feel extra-luxurious, even when my room service is really just a halfway-decent Seamless order instead.
Room Service, $245 at Barneys.