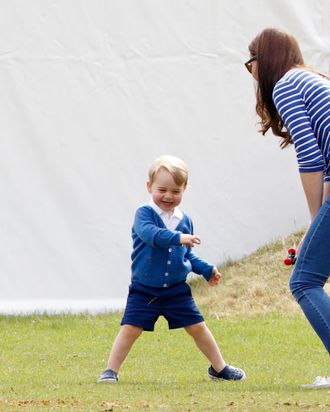 Photo: Max Mumby/Indigo/Getty Images
North West may be the go-to infant-style icon for adults, but Prince George is influencing the toddler-style world. When the tiny heir to the throne wore a pair of Crocs-brand clogs to a polo match — the better to evade the divots — he set off a national craze. Per WWD, Amazon.co.uk said that sales of the style have increased by 1,500 percent since the little prince wore the shoes on June 14.
He has previously worked the same sales magic for a swaddling blanket and a tank top, among other pieces. "Once again, Prince George proves there's no age limit on being a fashion icon," Daniel Silverfield, the site's head of vendor management for shoes, told the paper, which went so far as to dub it "the Prince George Effect." Hope Kate isn't too jealous.