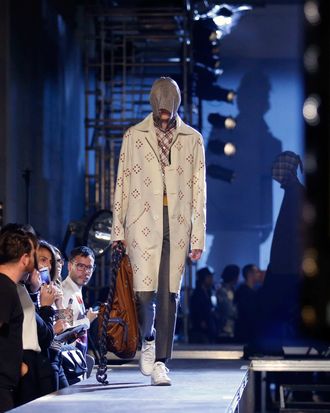 Photo: Francois Mori/AP/Corbis
When you're casting some of the most striking male models around, it might seem churlish to cover up some of their faces. But Raf Simons always plays by his own rules. At his show today on the outskirts of Paris, the designer obscured models' faces with plaid hoods that surely made navigating the catwalk a challenge. (The Independent's Alexander Fury tweeted that two of them fell off the runway, though there seems to be no other confirmation of this.) For those not puzzling over the hoods, the show also featured male crop tops, some layered with sweater vests and paired with low-slung, rave-ready jeans — as well as intentionally holey sweaters and models holding lengths of chunky chain.
Of course, it wouldn't be a Raf show if it didn't provide plenty of fodder for discussion. One thing that's not debatable: the careful tailoring whose fine print may get lost amid the collection's more attention-getting elements. Simons took items that are often taken for granted, like tan trench coats or pinstriped banker suits, and made them feel personal and thought-through — on the former, he inscribed a painted, uneven grid that echoed the collection's plaid motif, the latter with just-awkward-enough cuts (he subbed in shorts with fluted hems for the traditional trousers). That sound you heard was the one of a thousand Raf-heads' minds exploding.