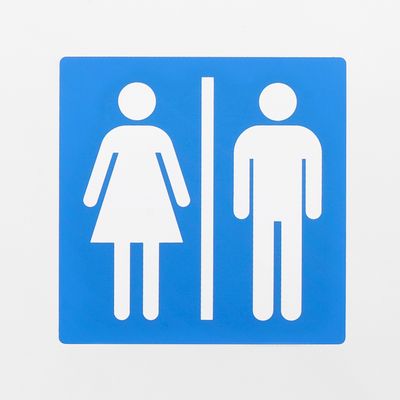 Photo: Peter Dazeley/Getty Images
Nearly 60 percent of transgender youth experience family rejection, and many subsequently endure homelessness; in New York State, the average age that a trans person becomes homeless is 13 1/2. Yet despite the immense difficulties young trans people face, a 2006 focus group of transgender youth in New York City called attending school the "most traumatic aspect of growing up." And even with the passage of a 2010 law meant to offer greater protection for students, it seems that little has changed. Today's New York Civil Liberties Union "Dignity for All?" report confirms that public school remains an ordeal for trans and gender-nonconforming youth.
The report compiles the testimony of dozens of trans teens across the state, who said nearly every aspect of school (from attendance to bathroom breaks, lunchtime to gym classes) is fraught. School officials publicly questioned Danny* so frequently about his name that he stopped eating lunch, then started avoiding school altogether. He's failing three classes and the school may hold him back. Josh is terrified that his school's refusal to let him use the boys' locker room will out him to fellow classmates. He desperately wants to be homeschooled.
The testimonies of transgender and gender-nonconforming youth suggest that harassment and violence occur statewide, and when school administrators step in, it's not always to stop harassment, but to participate. Schools out transgender students who wish to keep their trans status private, refuse to use preferred gender pronouns, and ignore bullying. Transgender and gender-nonconforming children as young as 5 have been physically assaulted.
"Students who aren't openly out as transgender often avoid using the restroom for their entire school day, limiting their water intake or holding it in, as the school won't allow them to use the proper one," said Lauren Frederico, a social worker and lead author of the report. "Children should not be forced to go these lengths to get an education. It sends a message that transgender kids do not belong in their own schools."
In an NYCLU conference call today, Casey, 11, who goes to school outside of Albany, said, "I know I'm a girl," but "the school doesn't treat me like other girls. I have to use a separate bathroom, I'm not allowed to use the girls' locker room. It makes me feel like a freak." While many testimonies of mistreatment came from students living in conservative areas, discrimination also happens in New York's progressive and larger cities.
Marisa, the mother of Jessie, a 6-year-old gender-nonconforming girl who attends a New York City public school, testified to violence her daughter faces and the indifference of school administrators. "When we make believe, Jessie always chooses to be a boy character," Marisa said, adding that she favors traditionally male clothing, and wears what her peers call a "boy's backpack" with a Ninja Turtle on it. Since entering kindergarten, she's faced near constant harassment. Taunting and jeering from peers quickly escalated to physical assault. She's been kicked, stepped on, tackled, and had her hair pulled. Students have knocked her lunch tray to the ground and taunted her for not looking like the other girls. Despite repeatedly filing claims suggesting teacher trainings and encouraging age-appropriate lesson plans on gender identity, Marisa says the school has not taken the issue seriously. "I don't know how bad it has to get for the school to have to do something to protect my child," she said in the teleconference.
Since many transgender youth lack familial support, there is often no one to stand up to the school on their behalf. Anxiety, shame, fear, depression, and suicidal thinking are common among trans youth. What should be a safe haven becomes a nightmare and trans youth are left with a horrible choice: Either face the discriminatory and illegal practices of New York's public schools or drop out.
But it's not supposed to be this way. In 2010, former New York governor David Paterson signed the Dignity for All Students Act into law. More encompassing than federal laws against discrimination, the Dignity Act explicitly prohibits discrimination in schools on the basis of actual or perceived gender, gender identity, and gender expression. Schools must respond to discrimination and take additional, affirmative steps to prevent the emergence of a hostile environment. Staff training and inclusive curricula are required, as is reporting incidents of harassment to the state.
In practice, the Dignity Act is largely ignored. "Our report documents what many have known for years: that discrimination on the basis of gender identity and expression is pervasive in New York public schools and the rights of transgender and gender-nonconforming students remain largely misunderstood by educators and administrators," said Frederico, the co-author of the report. "Only clear and immediate action by the State Education Department will ensure the rights of transgender and gender-nonconforming students are respected in all schools across the state."
The NYCLU recommends tougher standards and more extensive monitoring of schools. They've suggested better guidance and training, in addition to increased avenues for students to confidentially report harassment and administrative indifference. Many trans teens don't know what they're entitled to by law, so education is essential. The testimonies of students speak to how desperate they are for change. "Even if you don't accept transgender people," Locke, 18, said in the teleconference, "please just respect us."
*Names of most students featured in the report were changed to protect their safety and privacy.