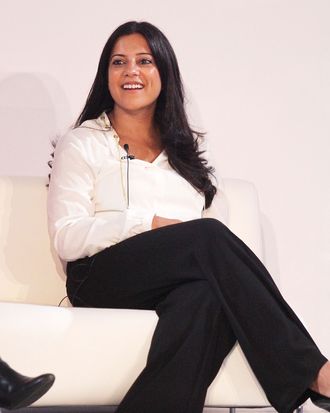 Reshma Saujani.
Photo: Laura Cavanaugh/Getty Images
This week, the Cut is talking advice — the good, the bad, the weird, and the pieces of it you really wish you'd taken.
Reshma Saujani, the founder and CEO of Girls Who Code (and #BlogHer15: Experts Among Us advisory board member), is not afraid of taking bold risks. In 2008, after listening to Hillary Clinton's concession speech, she decided to quit her job on Wall Street and run for Congress. "She said, 'Just because I failed doesn't mean you shouldn't try, too,'" Saujani, who served on the finance committee for the campaign, recalls. "I literally felt like she was speaking to me." Though Saujani lost her 2010 congressional bid by a landslide, she turned her campaign experience — which involved visiting schools in New York's 14th district — into the idea for the nonprofit organization Girls Who Code. Since first starting in 2012, it has provided free, high-quality computer-science education to nearly 4,000 girls from low-income areas in 29 states, with the support of companies like Google, Twitter, Microsoft, and Facebook.
The Cut asked Saujani for advice on learning to cope with failure, asking for help, and getting people to take your ideas seriously.
Before starting Girls Who Code, you didn't really have any background in tech or entrepreneurship. How did you get people to take your idea seriously?
First, it's about finding the problem that you're really passionate about. When I was running for office, New York City was becoming a tech hub — Facebook and Twitter were starting to come here, and talking about the lack of engineers. At the same time, I was visiting schools and seeing the lack of girls in robotics classes firsthand. It was almost like a perfect storm. After the failure of my election, I wanted to keep the commitments that I had made to people I met on the campaign trail, which included addressing the lack of women in technology. I spent 2011 and 2012 thinking about this problem — learning that there had been an enormous decline over the past 30 years of women in computer science, and talking to people in media and tech about why that was. Then, I talked to people in the industry about what a curriculum targeting girls would look like, and started to piece these components together to create a class of 20 girls, and teach them how to computer program.
Theoretically, I have no business starting an organization called Girls Who Code, because I don't code. I think a lot of people could have said, "How can I try to tackle girls in computer science when I didn't major in computer science, and I'm not a coder?" I approached it as someone who is very passionate about women and girls, and someone who likes tough problems and wants to try to solve them. When I first started, I wasn't intending to build a movement. I was planning to do one summer program to see what we could do differently to get more girls in technology.
How did you finance Girls Who Code in the early stages?
I put the original website on my credit card, and bootstrapped everything that first summer. Brian O'Kelley of AppNexus gave us a conference room, and agreed to feed the girls that summer. I had email addresses from different principals in the city, so that's how we sourced the girls who were in the program. I raised a little bit of money from Twitter, and GE, and eBay, but it didn't cost a lot the first year. I met people through women's events and talked to them about my idea, and I sent out an email to friends telling them that I was trying to start this program. A lot of times we don't think our personal networks are that powerful, but they really are.
How did you convince people that you had an idea that was worth investing in?
I am so passionate about this topic. I live, sleep, eat, breathe it, and I think I convey that. And I think the second thing is that you just have to do it. I just put a program together. I know that sounds like it's so easy, but I had an idea, and I executed it. I said, "This is a seven-week program with 20 girls. I'm going to find someone to help me develop the curriculum; I'm doing to find people to help me put together a group of girls." And then I just put it together. Too many times we just think about our ideas, and we let people convince us not to do it.
How do you know when to ask for help?
I think you should always ask for help. Part of the success of Girls Who Code is that I am a hustler. When people ask what my biggest strength is, it's that I'm shameless. I will ask people for help even when I don't know them. I email Marissa Mayer every year to get her to come speak to Girls Who Code. And she's probably like, "Who is this woman?" But I don't care. I think it's important for her to be involved in the program, and I will keep emailing her. Sheryl Sandberg is a friend and a role model and a mentor for me because I harassed her into being my friend. And I think it's really important to feel comfortable doing that. Personally, when people are really aggressive and email me over and over and over again, I'm like, "Okay, fine, I will find the time to meet with you." I respect that fearlessness, and that doggedness.
What have you learned about being a good boss?
I always want to hire people with integrity and good judgment, and people who are actually going to be faster than you — which is hard because I'm pretty fast. And you want to hire people who are driven in the same way that you are. I love mentoring women, and I love throwing them in the deep end. We push our employees to do things that they have never done before, and it's painful, but when they get through it, it's really exciting. I think that feeling of being thrown into the deep end and doing something you never thought you would accomplish is really powerful.
You recently had a baby. Has becoming a mother impacted the way that you think about work, or the way you think about being a boss?
It's made me more ambitious, ironically. I think I've gone even further in my job because I'm really conscious of the world I want to create for my son. Also, we're about to move into a new office, and I said I want to have a playpen, so people with babies can bring them. At Girls Who Code, we have an opportunity to create a work space and a culture we want other people to model, which is exciting. On my maternity leave, I started working too early, and now I tell the women in my organization, don't do that. Sometimes you say, "Don't be me!"
I also say to my team: Do 10 percent of your job shittily. It's okay to do something shittily. Perfectionism prevents us from taking double steps in our career. We think we have to be perfect, but we don't.
You're adamant that things don't come easily to you. What have you learned about failure and resiliency?
When I lost my congressional race I was so embarrassed. I felt so bad that I raised so much money and then I let people down, because I lost. Men don't care. They keep losing and losing and losing until they eventually get there. I think that's the story of life: You do not quit and you do not give up. I lost an election. I had a colossal failure; I was humiliated but I'm still alive. Now I feel like I can do anything.
I don't think we've done a good job socializing women about failure and risks. Even now, at Girls Who Code, a lot of young women who work for me are sometimes afraid to take risks. They feel like they're not prepared, or not ready, or need a couple more years before they can take on that task or that project. Men have been faking it 'til they make it their whole lives, but women don't really do that, and I think that's something we need to change. Men will start a company and lose millions of dollars, and then they'll just start another company.
How do you handle disappointment and setbacks?
I put a limit on how long I get to grieve about something. You get a month to complain and drink a lot of margaritas, and then you move on. I don't live in the past. I move on from that, but I take my time to grieve and feel sorry for myself first. I think that has helped me a lot in my life. I also talk about my failures and insecurities, and my worries that I won't achieve what I've set out to achieve, and that it hurts my feelings if I'm taken apart in the comments section of a blog. All of that is painful and real, and I think being your authentic self is really important to being a good leader.

This interview has been edited and condensed.