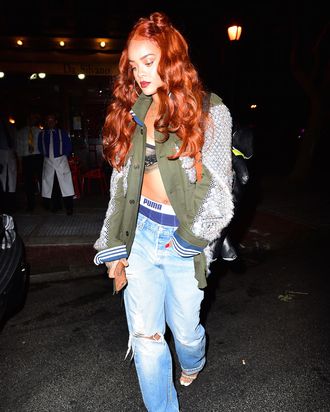 Photo: 247PapsTV / Splash News
The only surprising thing about Grazia's report today that Rihanna is embarking on her own fashion line is that she hasn't done it sooner. While the pop star has been very involved in the style world — as the creative director of Puma, the face of Dior, the recipient of last year's CFDA Fashion Icon Award, and a tireless culottes advocate — her own collection is something that has eluded her until now. Meanwhile, fellow pop stars like Beyoncé, who is plotting an athleisure collection, have lapped her in this department.
Per the report, RiRi has registered a patent for an accessories line, to be titled — spelling sticklers and truant officers, avert your eyes — $CHOOL KIlls. According to the magazine's source, "$CHOOL KIlls will be an accessories range covering everything from tote bags to purses, and later on, fashion. She still loves the music, and it's what launched her, but this is her focus right now." Given that everything she wears already flies off the shelves, this collection shouldn't be a tough sell.