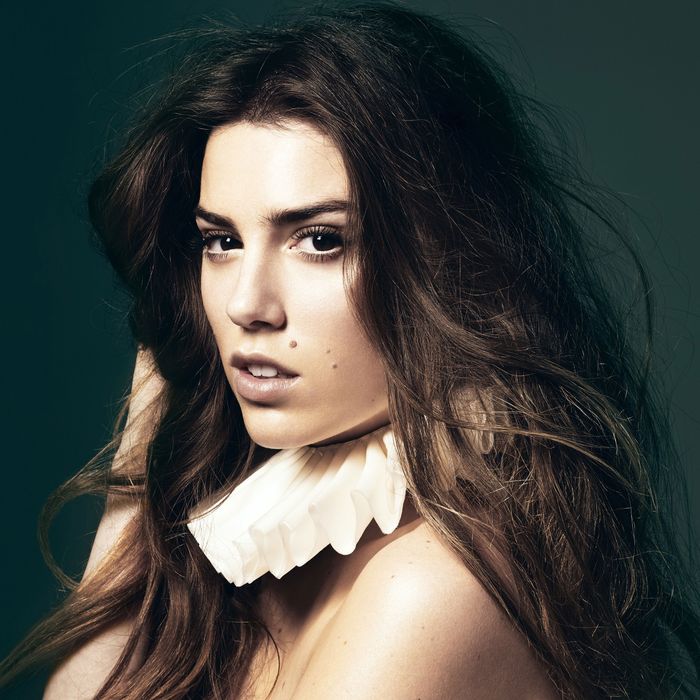 If you haven't listened to viral sensation Ryn Weaver yet — née Aryn Michelle Wüthrich — Google her now. Her first song, "OctaHate," co-written by Charli XCX, has racked up more than 3.6 million plays since she put it on SoundCloud in June 2014. Following the initial success, the 22-year-old singer released a debut EP titled Promises two months later, but because press and new music since the release has been limited, she has remained enigmatic. Weaver performed a few small shows in New York City and L.A., but waited until early April 2015 to release "The Fool," the title track of her debut record. Ruminations on breakups, freedom, and feminism, the songs on her first album tell stories from Weaver's life. She spoke to the Cut during the lead-up to her debut studio album (out on June 16 via Mad Love/Interscope Records) about pushing boundaries, expanding gender norms, and whether's there's room for someone weirder than Katy Perry or Taylor Swift in the world of mass-girl-pop.
Did you expect  "OctaHate" to go that viral?
I didn't necessarily expect it to go that viral. I know I worked with some really talented people, but you can't expect people to latch onto a song. I think it's pretty polarizing — people I know either loved it or were like, "'Turn that shit off." That's the kind of music I want to make, and I was really surprised by the response.
You originally made a playful, circus-themed music video for "OctaHate" and recently remade the video with you and a friend food-fighting in elegant outfits. Why did you decide to redo the video?
I had all of the ideas there in the beginning, but it was also my first time doing a video. People call in a lot of favors for you in the beginning — because I wasn't on a major label yet, there wasn't a bunch of money being thrown at it. We reached out and pulled strings, but the styling wasn't how I imagined it. The ideas were there, but it wasn't really executed properly, and execution is key in these situations. I didn't have to redo it, but I wanted people to understand my cohesive vision.
For the second one, we ripped a page from this '60s Czech film called Daisies — this feminist, absurdist piece. In this scene, they talk about how the whole world is spoiled and how as a result, they should spoil themselves.
The songs you've released thus far are about relationships and failed relationships. Does The Fool cover one in particular?
It actually covers two relationships. The record poses the question: Is it foolish to settle for what you always thought you wanted as a 22-year-old woman, or is it foolish to go and leave what's so beautiful, stable, and certain? I think that's a question a lot of young women have these days, especially coming from a generation of girls who — in my opinion— have less of a road map. It's not just about being a woman: It's about being a modern human and about fear of commitment. 
It seems like you are very open about love, relationships, and everything that goes along with them. Is sexuality something that's fluid for you? Is that something you're open to talking about?
I don't think that sexuality is set in stone for anyone. The whole concept of categorizing what we are in order to make sense of who we are only leads to more confusion. Everyone's on the spectrum on one level or another. I'm definitely queer — I'm not a purely straight woman and I don't believe in limiting myself when I don't want to. It's up to us to embrace our freedom or be stifled by constructs that were created centuries ago.
How do you feel like you fit into the pop scene? Do you fear becoming a huge pop star?
We'll see, it's been one song thus far. I'm not sure I necessarily fit in, but there's a part of me that never feels like I fit in. I'm a performer and I definitely love a larger-than-life story and performance. I think if you're writing things that are truthful and beautiful and helping other people deal with their demons, then there's room for you. I think my only fear is that I just hope other girls are nice to me on the way up.
Talk to us about your selfie strategy.
You don't want to have light that's coming from under you or too much above you to where it's casting shadows on your face. You just have to find a good light and let it shine on your face. Gwen Stefani told me that. When I did my first music video, I talked to her about it because I felt like my skin looked so weird. She said, "It's crazy how much lighting can change that for a girl."
In your selfies, your lips always stand out as the main attraction. 
I love MAKE UP FOR EVER. Invest in lip color. It really goes miles. Makeup is one thing I believe in investing in. I can have pretty terrible skin sometimes and when I really need a break and sunblock, there's this Laura Mercier tinted moisturizer that goes forever and then I cover it with bareMinerals. Chanel Intense Beige is my favorite lip color of all time.
From October 2014 at your NYC show at Baby's All Right until now, your figure seems to have transformed. You look/looked gorgeous, but did you change your diet or workout regimen?
I was on a really weird birth control, and my birth control was making me gain weight. As soon as I went off of it, I lost 15 pounds. If you feel like you're gaining weight, you're feeling weird, and your boobs are getting too big (I was like taping myself down) … It was all hormones. Watch your birth-control intake, ladies.

This interview has been edited and condensed.