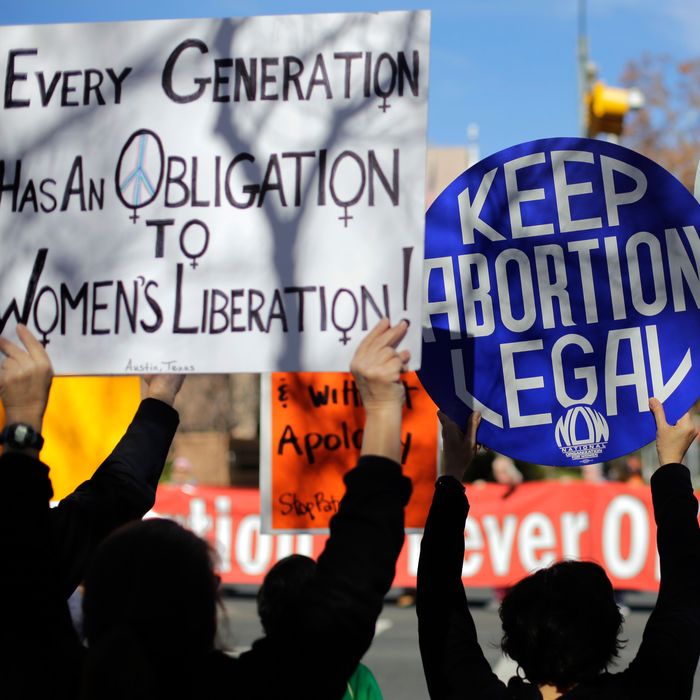 Yesterday, the Supreme Court voted to temporarily block a new law in Texas that would effectively shut down half of the state's 19 remaining abortion clinics. Signed by Rick Perry in July 2013 and upheld by a federal appellate court earlier this month, the law was set to take effect this Wednesday. It would require clinics to adhere to strict new standards.
State officials say the new law — which stipulates that abortion clinics must have the same equipment and facilities standards as outpatient surgical centers, and requires that doctors performing abortions have "admitting-privileges rules" with nearby hospitals — is needed to protect women's health. Abortion providers argue that the new regulations (like ensuring all hallways are wide enough for hospital gurneys) are expensive and unnecessary, and designed to force many abortion clinics to shut down. If the law goes into effect, the 9 clinics to remain would be clustered around metropolitan areas, with no licensed abortion facilities west of San Antonio.
Abortion providers and activists filed an emergency appeal to the Supreme Court on June 19, requesting a stay after their efforts to have the law overturned failed. Yesterday, the SCOTUS voted 5-4 to allow the clinics to stay open while the justices decide whether to hear an appeal on the case. If they do hear the case, the Court may be called upon to clarify what constitutes an "undue burden" on a woman seeking an abortion.
"This case presents a very, very dramatic impact in the type of restrictions on access to abortion clinics that we've seen over the past few years," Nancy Northup, the president and chief executive of the Center for Reproductive Rights, told the New York Times. "If this case is not taken by the Supreme Court, it's going to allow a continuation of the closing of clinics by these sneaky, underhanded methods," she said.