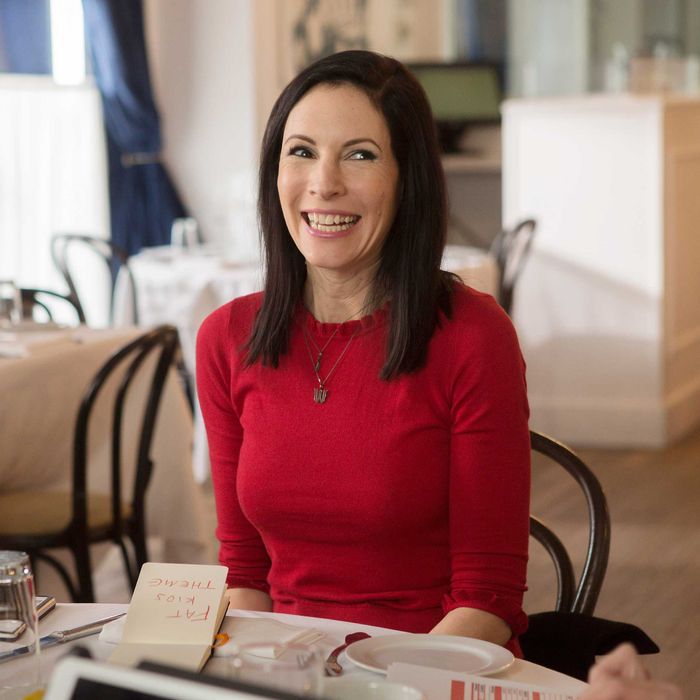 Jill Kargman.
Photo: Bravo
It's 5:30 on a Thursday, and the ladies perched on the cow-fur-covered stools at the Mark Hotel bar are being very Upper East Side. There are Bergdorf bags everywhere. One of those Elizabeth Taylor from Sex and the City dogs trots by. Jill Kargman, star, creator, and executive producer of the new Bravo scripted series Odd Mom Out, in her standard Morticia Addams of Madison Avenue getup (black nails, black hair, black Anthropologie dress), is sipping a pink lychee cocktail, and nudges me when she spots Michael Bloomberg's very tall and stately girlfriend Diana Taylor. Jill talks Micro Machines Man fast, and is speeding through the real-life Upper East Side tales that inspired her show, a send-up of the neighborhood's mom-foolery: tales of one woman who has an apartment uptown and a "country house" in the West Village; tales of very particular private-plane lingo ("firing up the bird" rather than the passé "wheels up"); tales of dinners that inevitably end with couples playing "credit-card roulette" with their black Amexes.
Suddenly we're interrupted by a piercing "Ahhhhhhhhhhhhhhh!" and we are surrounded by actual Upper East Side mothers — Saint Bernard's mothers to be exact; Jill has three kids, two girls at Chapin and a boy at St. Bernard's — who are all saddled with shopping bags, and are all freaking out: "Oh my God, oh my God, Jill, how are you?" A perfectly coiffed woman tells Jill how funny it is to run into her because just last night she was at the Polo Bar, and a friend came over to her table, and told her he'd been at Jill's premiere party, and isn't that funny? Jill gets up, laughs along, and, before sitting back down, says they'll all catch up next week.
"See, the thing is," Jill tells me, once the ladies scatter, "I actually love all of these moms. I have three kids in three classes at two different schools, and I honestly don't have one cunt!"
And that's when things go from simply just meta to slightly more complicated. While Jill's headline-sharing Upper East Side chronicler Wednesday Martin, she of Primates of Park Avenue fame, bills herself as a true outsider — a scientist from small-town Michigan plopped into this alien land of Birkins and boob jobs — Jill is truly the ultimate insider. (She also hasn't read the book yet, but met Wednesday at a party, and says that she seemed very nice.)
On Odd Mom Out, which aired its premiere last night, Jill stars as a not-so-thinly-veiled version of herself: Jill, a quirky, all-black-wearing, French-fry-eating mother of three, bumbling along as her fellow rail-thin moms complain that they "look like Chris Christie," practically punch waiters in the face if they offer them bread, and commission Mario Testino to photograph their kids for their kindergarten applications. At a SoulCycle–esque fund-raising ride, Jill shows up in a hot-pink unicorn T-shirt and is relegated to the back row. She's always inappropriately cursing at school functions. She has "underwear dance parties" with her kids. And she lives on the Upper East Side, but in the far East 60s — basically Siberia.
In real life, Jill also lives in the far East 60s ("Durito: Down Under the Roosevelt Island Underpass" she calls it), also has a dirty mouth, hates working out, and took her kids to see Fun Home last week. "They were the only kids in the theater besides the kids in the show and I was so proud," she says. But, while the moms on Odd Mom Out (led by her sister-in-law, played by Abby Elliott) look down their noses at her, real-life Jill is no social outcast. That's partly because Jill is about as Upper East Side as they get: Her father, Arie Kopelman, was the president of Chanel, she grew up on Park and 65th, attended Spence (where Gwyneth Paltrow was one of her closest friends), then Taft, and then Yale; her brother is married to Drew Barrymore. She is also very thin.
Kargman has spent most of her adult life Edith Wharton-ing her way through the upper crust; being fully in it, feeling slightly out of it, all while lightly making fun of it. As she tells it, even as a young Spence girl, when most of her classmates spent their Saturdays at Bloomingdale's, 12-year-old Jill would take the 6 from 68th and Lex down to Astor Place, and buy a copy of the Village Voice for $1.25, and sit on a bench in Tompkins Square Park and just "soak it all in." She says she was a "class clown" at Spence, and started sneaking out of the house in eighth grade to party at Area and Palladium. Her parents were hesitant to send her to boarding school, but she recalls the moment that changed their minds: "I finally just said, 'Mom and Dad, last Saturday night I told you I slept over at a friend's house and watched Rain Man, and woke up at 6 a.m. to read the New York Times review so we could discuss it at breakfast, but I was actually at a nightclub on Tenth Avenue dancing with transvestites until dawn.'" After that, she says, "They practically Fed-Exed me to Taft." While there, she says she didn't quite fit in, and came home most weekends ("I just wanted to get dinner with my parents at Sette Mezzo") and preferred Trash and Vaudeville leather jackets to L.L. Bean fleeces. She went to Yale, which she didn't really like either, and took six classes every semester and managed to graduate in three years. She took the tuition her parents saved, and traveled the world for two months, before becoming Ingrid Sischy's assistant at Interview, where she worked for "two very long years."
At 24, she had her first brush with satire: She and a high-school friend wrote a movie, a pre–Devil Wears Prada called Intern that starred Dominique Swain and mocked the world of high-fashion magazines and their privileged interns, based on Jill's experiences at Interview, and also her internships at Mademoiselle and Harper's Bazaar. While it's actually pretty funny, and has a minor cult following (alongside the proto–Gossip Girl movie Tart), the film was a flop, and Jill hated how it turned out. "I ran out of the Sundance premiere crying; Mormons handed me tissues," Jill says. Somewhat ironically, her script impressed the higher-ups at Condé Nast, and in 2001, she was named Style.com's "Eye Spy" columnist, and spent six years covering society parties; delicately poking fun at the Muffies, the "overbred and underfed sprockets" who'd show up to a handbag launch, and always commenting on the hors d'oeuvre (she called herself a "roe ho"). Even then, a 2001 New York Observer profile of her noted that funny tension of being part of the world she was skewering; like when she showed up to an SAB benefit with her mother, Coco, in a chauffeured Mercedes because she and her family are longtime SAB supporters, and then wrote a column about it. In the mid-'00s, she and a writing partner, Carrie Karasyov, published several novels, including The Right Address and Wolves in Chic Clothing; followed by several more novels on her own, Arm Candy, Momzillas, and The Ex-Mrs. Hedgefund, that eventually gave way to a book of essays, Sometimes I Feel Like a Nut, and a meeting with Andy Cohen.
Which brings her to Odd Mom Out, overseen by the same production team behind Broad City, Inside Amy Schumer, and Louie. And while she's not redefining the genre like those comedians, she's managed to deftly and very, very funnily capture this particular and insane slice of the .01 percent: There's Jill debating whether to add a von to her last name, there's Jill messing up her family's interview to get into a fancy cemetery, there's Jill running out of cash, and asking a mom if she'll take a frozen yogurt frequent-buyer card. She surprisingly has no formal acting experience, but, as she puts it, "this is not a challenging role."